Bloggers Love is a blog series where I share the bloggers that I regularly read and visit. Today post is about bloggers with a beautiful blog because no one would not appreciate a nice looking, pleasant to the eye blog design and I belong to the extreme side of people who like to keep tab of blog design that I found beautiful and unique.
You might think that having a good blog design can be done just by installing a blog theme but how could it be that simple? Just like how difficult and strenuous keeping your Instagram feed aesthetic perfect, the same thing also applied for blog.
I've shared some easy to apply blog design tips here but to summarize the whole post;
Format your post
Use headings, blockquotes, bold words, add images, use white space smartly.
Mobile-friendly
It's 2019 but there are still bloggers that neglect smartphone users by not using mobile-friendly blog theme. I don't know about you but 60-70% of my readers are using
smartphones and I'm sure I'm not the only blog that they visit.
Readable
I'm really sorry to say this but a tiny portion of bloggers on WordPress like to use
this extremely unreadable wiggly looking font which makes me wonder, bloggers, do you preview your post? There's a reason why the preview button exists. It shows you exactly what would the readers see and help to spot a typo or unaligned photos.
Bloggers Love | Beautiful Blog Edition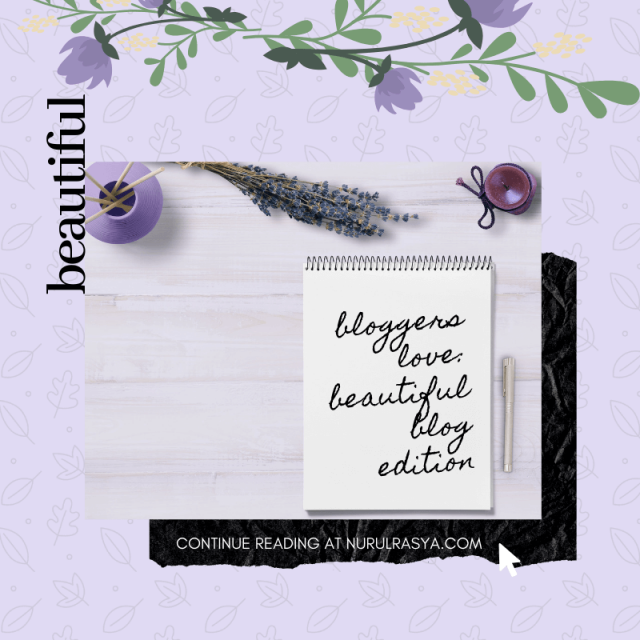 Disclaimer: I'm a fan of clean and simple design which is why most of the bloggers that I include here have this clean looking design. Also, I love the way they format and present their contents.
1. Fatin @ Between The Lines
Take a look at Fatin's header and then take a look at mine.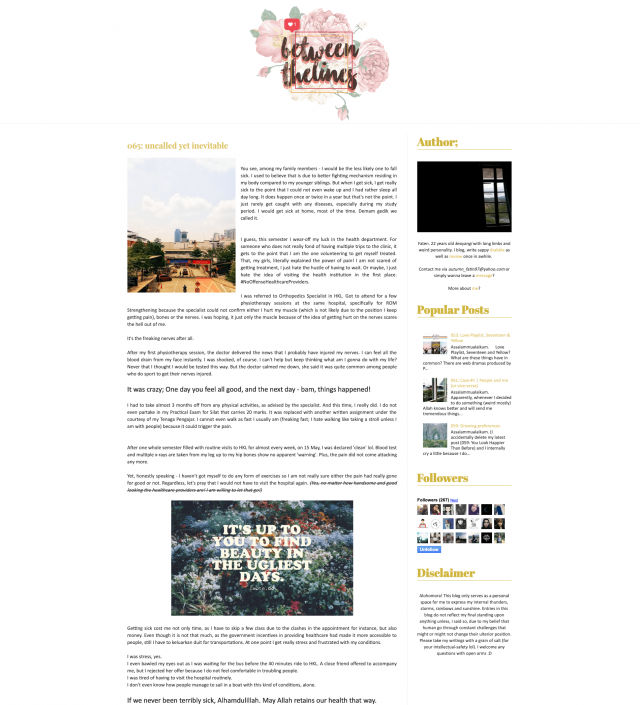 Fatin's blog design is actually a pre-equipped basic Blogger layout but what makes her blog
stand out is how she designs her blog graphics ie; her lovely blog header.
I also love her writing on Wattpad. Please update more x
2. Erin Azmir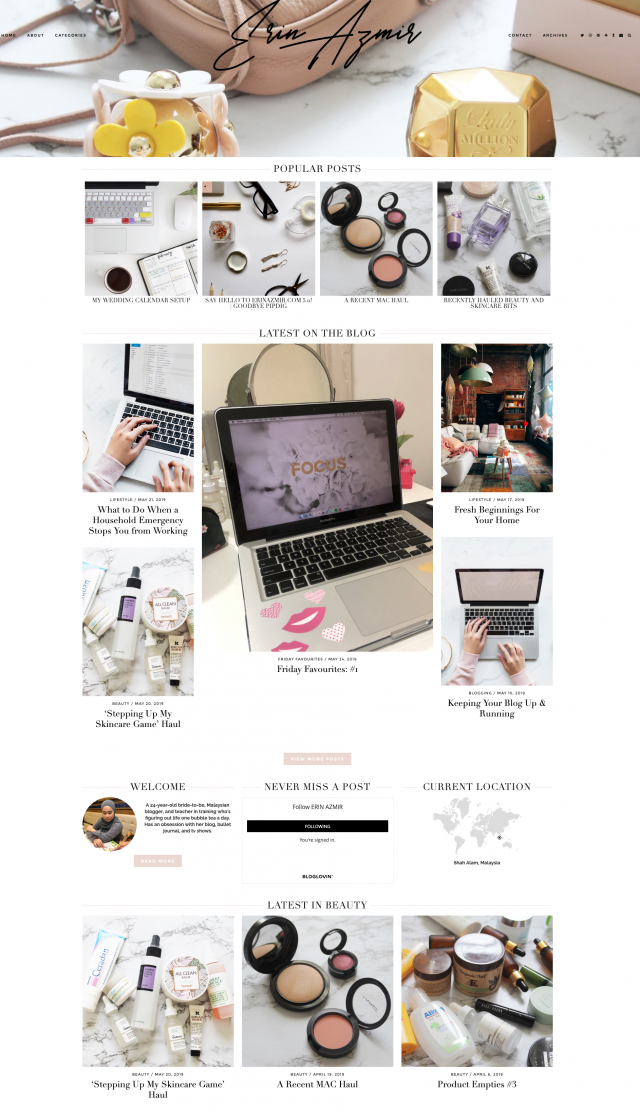 Erin is one of the bloggers that I admired and she's the reason why I decided to go self-hosted.
Her posts on blogging tips have helped me so much and here are a few of her posts that I know would be a great help to you too.
Erin writes great contents, has an extremely beautiful blog design and also friendly and helpful toward other bloggers,
THAT IS NOT FAIR.
3. Siqahiqa
If you haven't visit Siqah's blog or Instagram then you're missing out because her flatlay photos are just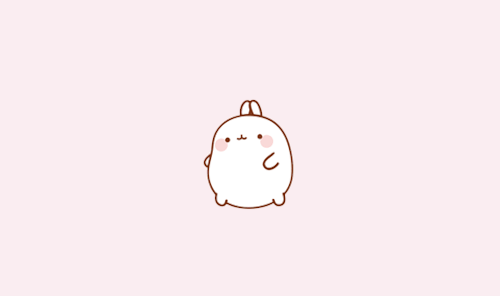 B-E-A-U-T-I-F-U-L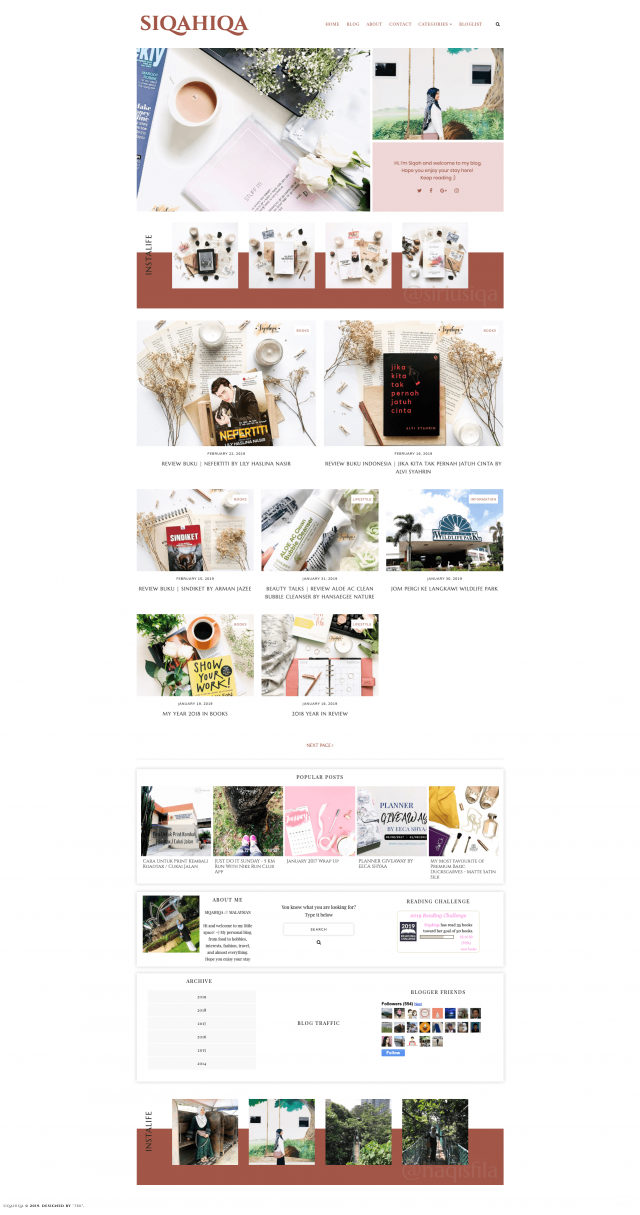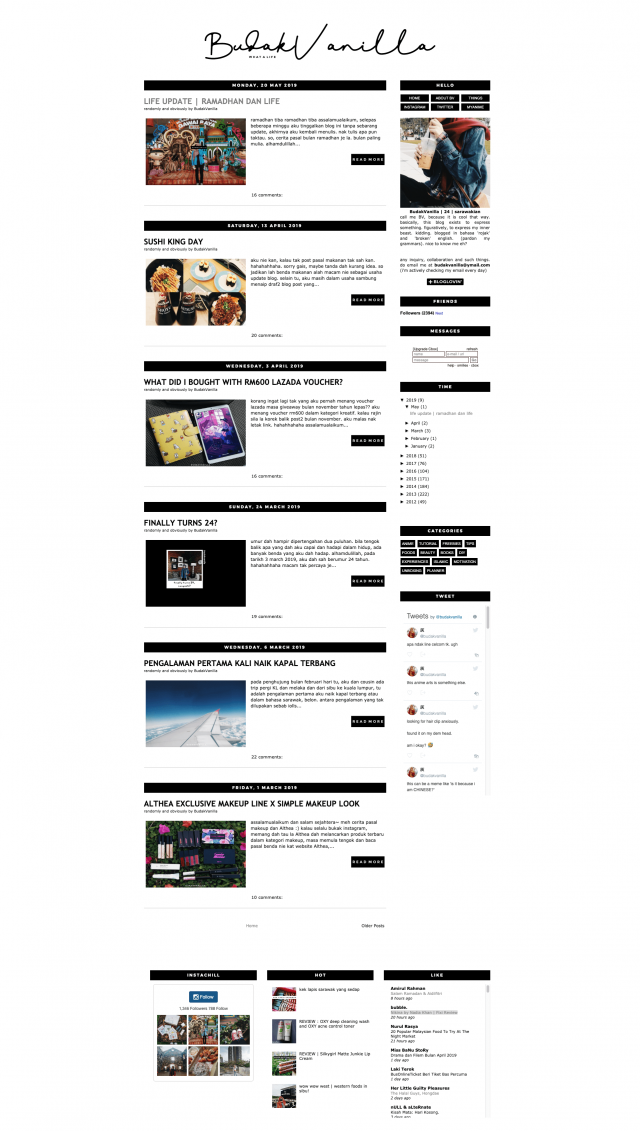 Reading BV's posts always make me jealous and hungry because she loves to write food reviews posts lol.
A recent read that I found from aimlessly browsing Bloglovin.
6. Audrey @ Brunch at Audrey's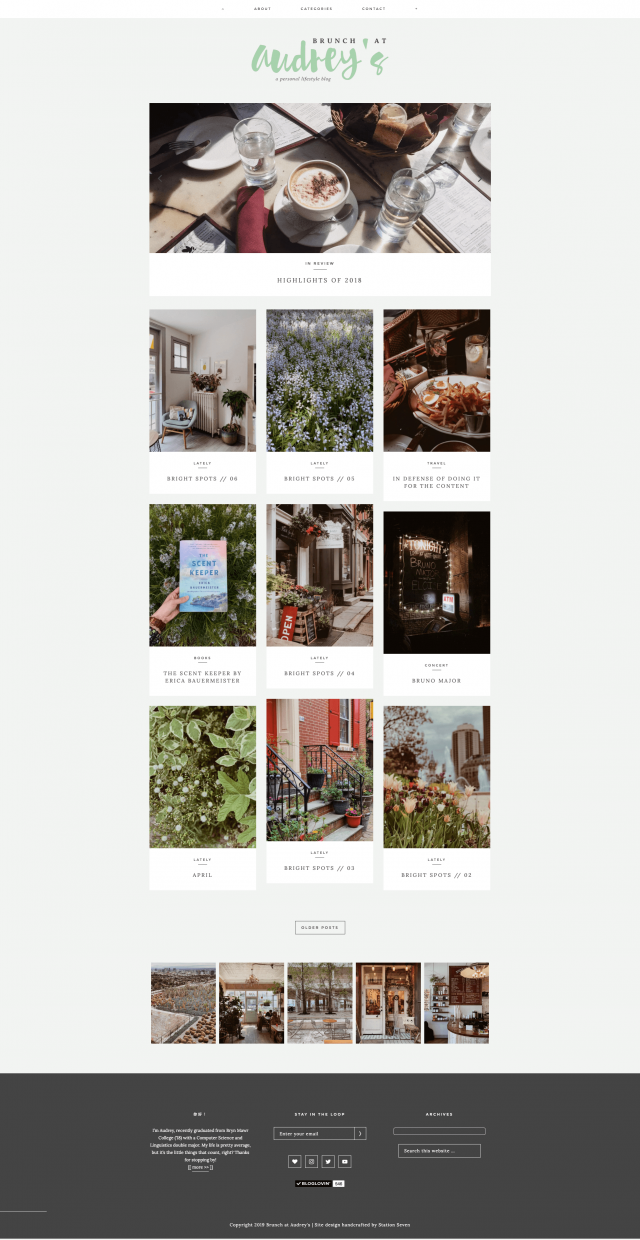 Audrey's photography is so good to the point that whenever I write a comment on her posts I would always say 'Lovely photos as usual' because it's the truth and good words are meant to be appreciated and said over and over again.
Beautiful contents are to be appreciated.
Rasya, 2019
7. Oh Tqa London @ Morsmordre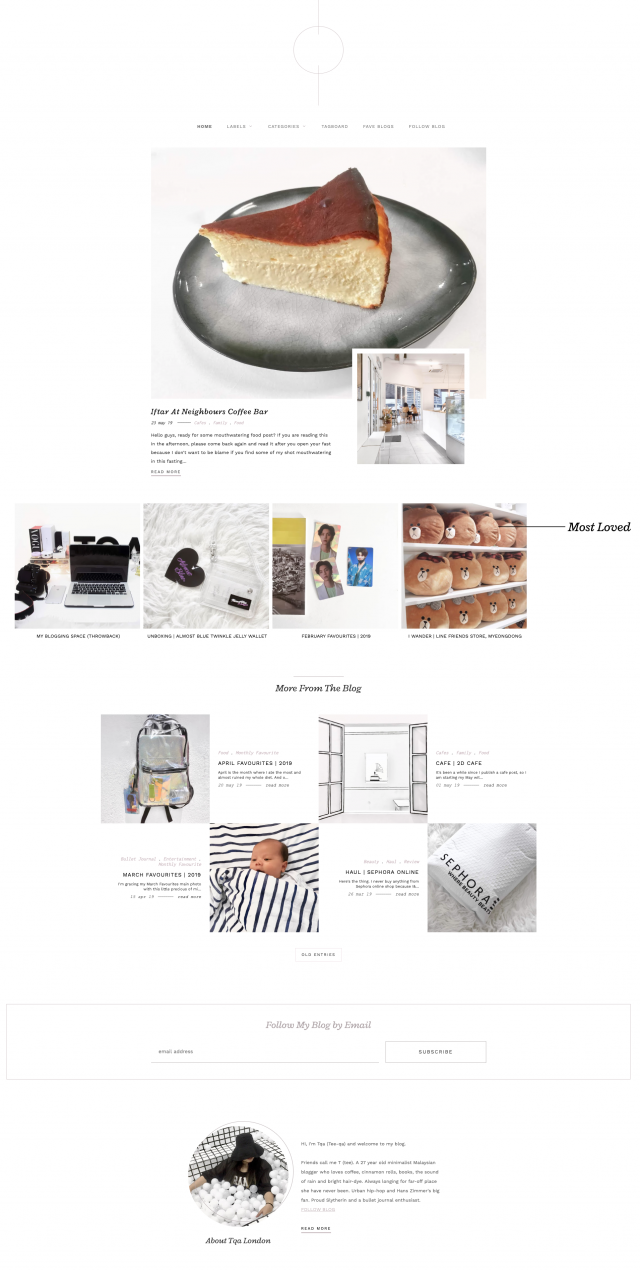 I love Tqa's aesthetic and her recent post on her visit to the unique 2D's Cafe which you can read below is a must read.
8. Elise @ Lait Et Frases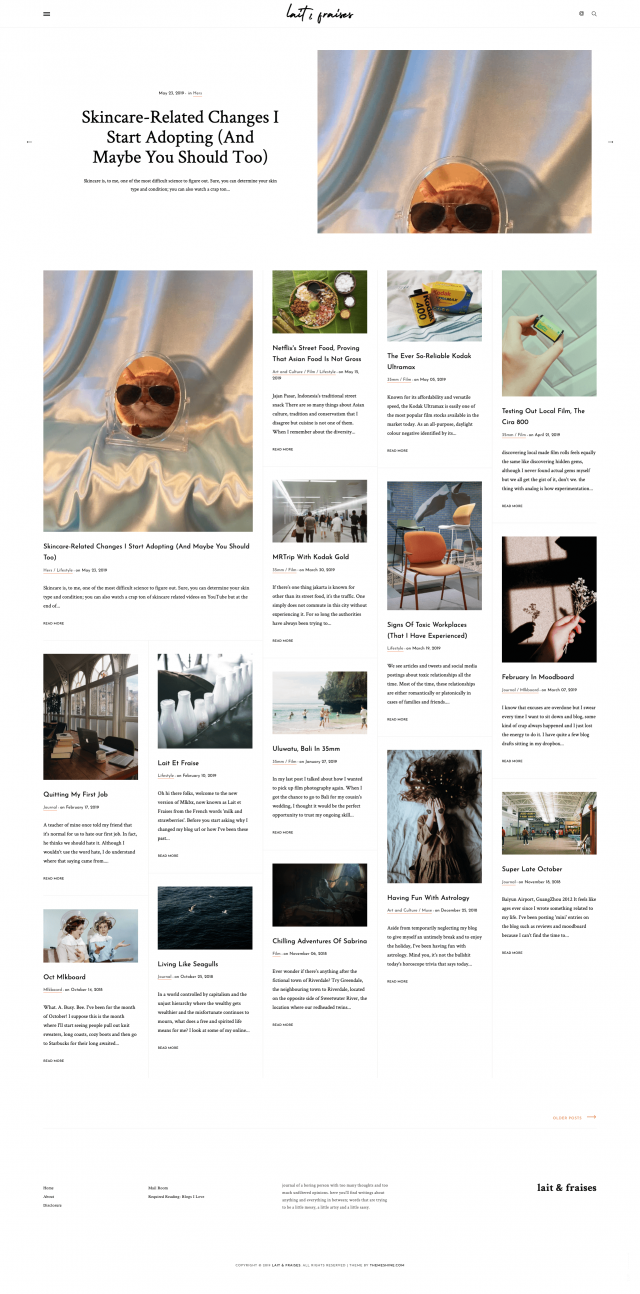 I've followed her since her Mlkbox era. Her writing resonates with me and her monthly mood board is love! Below are some of her posts that I like.
9. Hannah Cao @ Words and Latte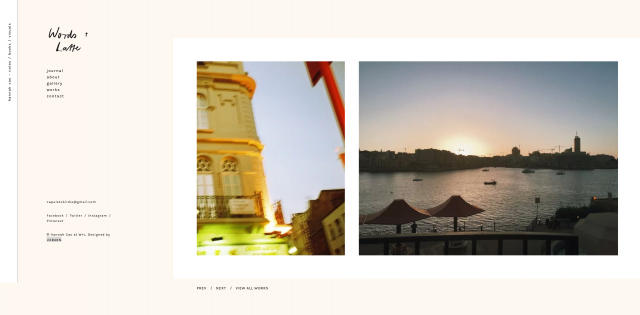 Just look at her homepage. It's unique and stands out among the countless bloggers that don the same vertical blog layout. Hannah's blog overall vibe is the kind of Pinterest aesthetic that I'm aiming for but couldn't because I'm not her lol.
10. Natalie Catalina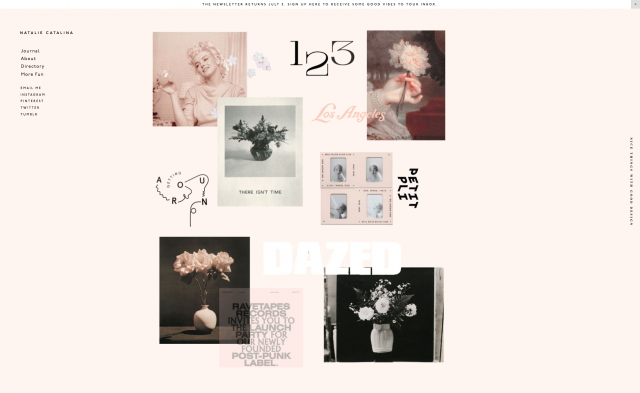 I found her blog just yesterday when I'm stalking on Elise's list of her favourite blogs and I literally gasped when I see Catalina's home page.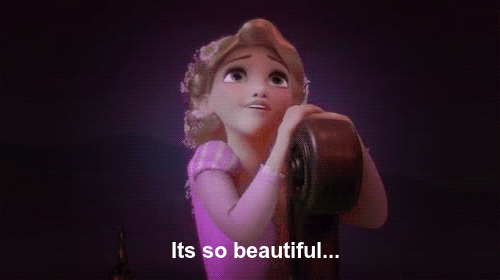 How can a blog be this beautiful?
I actually want to include more bloggers but if I keep going this post would reach 1000 words count so see you next time in another Bloggers Love blog series. *wink*
Have a nice day and to all Muslims, Happy Eid Mubarak!
p/s: If you know any bloggers with a beautiful blog and blog contents please tell me in a comment below. I need more stalking materials.