Hi everyone! today post is going to talk on my take on GoodNotes vs Notability and which app for note-taking iPad is the best for bullet journaling and note-taking.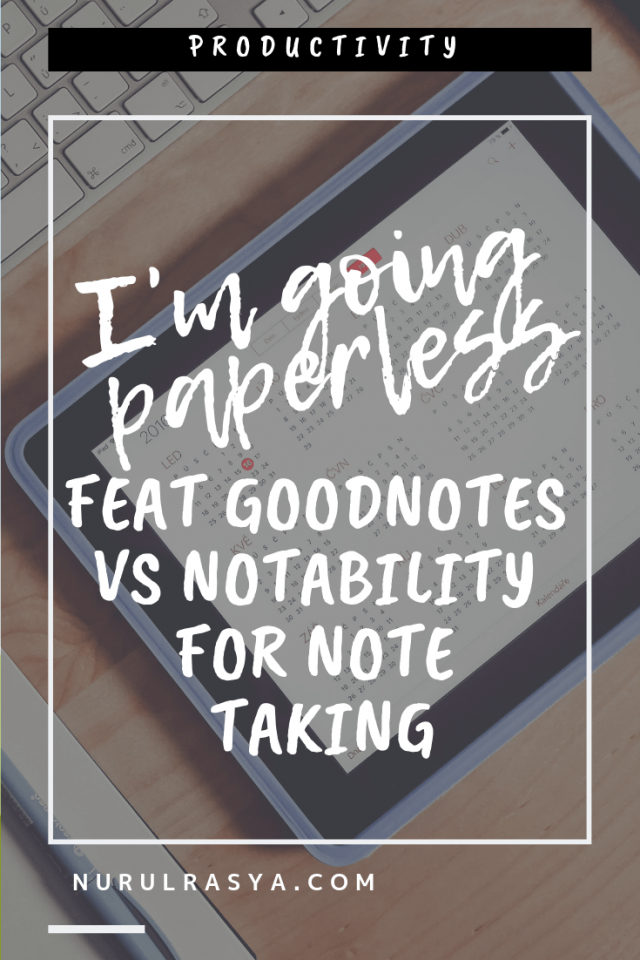 If you follow me on Instagram, then you'll know that I've embarked on a path to paperless with the help of digital apps; GoodNotes and Notability and a more expensive than my MacBook Air, iPad Pro. I've used both apps for 4 months and I feel like it's time to give a depth review of both apps. As a disclaimer, both GoodNotes and Notability are great apps but I choose the best one according to my preferences.
But wait, why am I going paperless?
I'm going digital/paperless this year. I've been waiting for so long to go paperless as my notes throughout university days plus the mountain of papers from learning Japanese take a lot of spaces from my storage and are in a dire need of major clean up.
And I have hyperhidrosis which means excessive sweating in palms and the sole of the feet which resulted in smudgy handwriting and notebooks accidentally tearing down due to the wetness of my palm throughout school years. So going digital means no more notes getting wet and I could just wipe the sweats with tissues or something.
Anyone here with the same problem as me because this I don't know should I call it illness cause a bit of lack of self-esteem during my teenage years especially when people want to handshake with me.
So no handshake for me.
Anyway, recently, I got myself an iPad Pro for my 24th birthday and I'm loving this expensive than my 2013 MacBook Air and fragile Netflix/Youtube watching machine lol. I could just get myself a normal iPad but human greed has no boundary so here I am with the latest iPad Pro which I need for
Note-taking/ Digital planning
Portability

so I can write on the go when I travel/outstation for work

Procreate app

(have you seen all those marvellous calligraphy and painting on Instagram because I have and it tempts me more and more to get myself one as the app is only available on iOS)

It looks good and I've been wanting to buy it from 2017
Based on a search on Instagram, Reddit and multiple YouTube videos, it seems like Notability and GoodNotes are the popular apps also proven by their top ranking in Apple Store.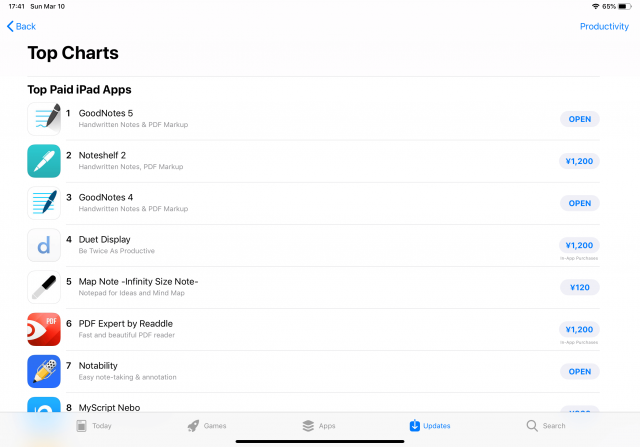 What I need for a note-taking app is actually pretty basic. Clean UI interface. Easy to use. No learning curve as I've got no time to waste #lies. Files and folders organization system like Ulysses.
I really dislike Scrivener/Pages organization system where you have to open everything into multiple pages as I tend to write multiple stories/blog posts at the same time. The folder organization must be something that is easily reachable on the sidebar which Notability does have but GoodNotes doesn't.
However, a few reading told me that GoodNotes has better note-taking features; better highlighters, shape tools are more intuitive than Notability,  more paper templates so I just bought myself both of the apps. Both of the apps' prices are cheap and affordable. You don't have to break into the banks for it.
Notability is sold for 1200 yen and GoodNotes for 960 yen. Worth every cents as the apps are packed with features that would be extremely useful for note-taking. I wish I have these apps during my uni days. It would be so useful in recording lectures, especially during Yamada Sensei's Japanese Language Phonology class. I hate the class by the way. 
I'm Going Paperless Feat GoodNotes vs Notability
GoodNotes

The GoodNotes 5 is just being released recently and I bought the bundle version which comes with the GoodNotes 4 for around 960 yen. A bargain I told you. I mainly use GoodNotes 5 but the app has quite a lot of problem with bugs and glitches. I still couldn't use the eraser (2019/03/10) and I hope the developers would fix it soon. I mean. Now.
GoodNotes Pros:
Variety of paper

templates

and

covers.

Offers both

portrait and vertical orientation

.

Ability to

create multiple folders/notebooks

. Majority of people probably would like GoodNotes organization system better

Better

highlighter

and

text boxes

Inserting images is accessible from the top menu bar

Creating shapes is easier

than Notability

Unlimited colours and font sizes

Outline view
Support multiple tabs

Sync with iCloud

Better printing. Never tried it but I know a lot of studygrams who print their notes and most of them use GoodNotes.



GoodNotes Cons:
Glitches, never-ending annoying bugs

No audio recording

Backup doesn't automatically connect with Google Drive or Dropbox. Need to do it manually

No insert gif feature. Not a lot of people need it but it nice to have cute cat gif on your planner okay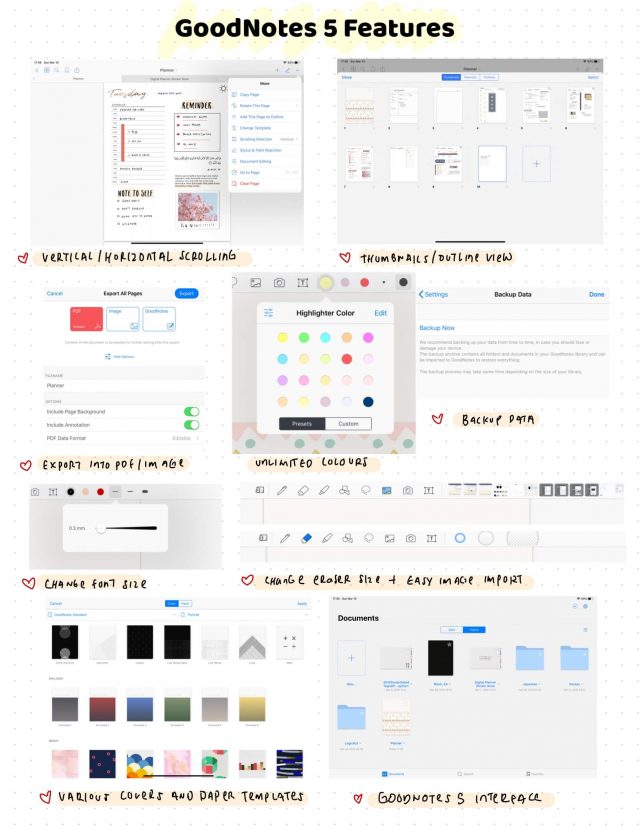 Notability
Notability Pros:
Audio recording

Clean interface


Has an organization system that I really like.

Everything could just be accessed from the sidebar


Supports 2 sheets view at the same time



Sync with iCloud, Google Drive, Dropbox

works perfectly




Glitches or annoying bug are close to none




Unlimited colours. Multiple font sizes



Insert gif feature

which I absolutely love to put into my planner

Can set password
Notability Cons:
Drawing shapes are so time-consuming




Putting text is so annoying as the background is not transparent so your text box looks off with the paper template




Limited paper template. No custom template upload feature




Highlighter text doesn't go behind the text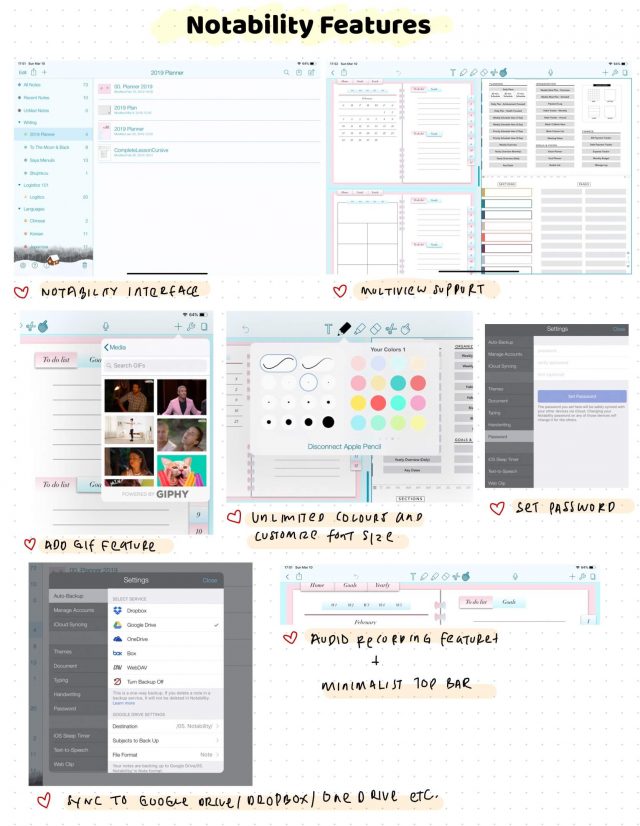 GoodNotes vs Notability | The Winner Is?
I actually lean more on Notability at first but I found myself liking the note-taking experience better in GoodNotes so my vote is for GoodNotes.

Do anyone here use GoodNotes or Notability? Which one do you prefer more? And if no do you have any plan going digital in the future?