Hi everyone! I'm back with another digital note-taking blog post on the 2020 Notability walkthrough; how to set themes, auto-backup, multitasking, etc.
What is Notability?
Notability is an app that you can use to write notes, bullet journaling, presentation, and recording lectures. The app is not free, you need to buy it from the App Store but I personally think that the app is a great investment especially for students as the app has an audio record feature which makes reviewing notes easier.
Anyway, let's get started!
2020 Notability Walkthrough
Interface
When you open the app, this is what the interface looks like. I really like the user interface. Unlike GoodNotes design, Notability interface is very simple and all your notes can be found from the left sidebar.
YOU MIGHT ALSO LIKE
How to Auto-backup
You can auto backup your notes to Box, OneDrive, Google Drive, WebDev, and also iCloud. I personally use Google Drive to backup my notes.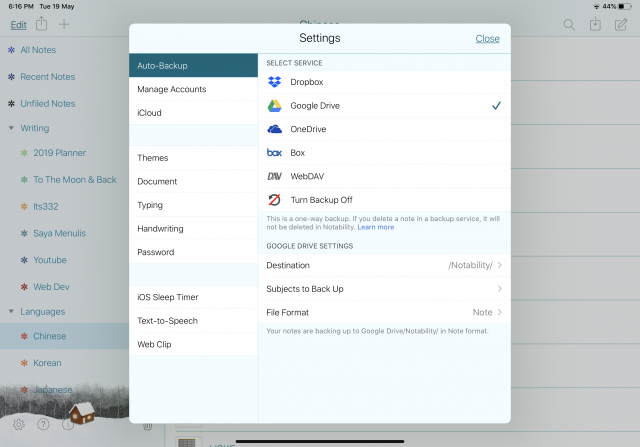 You can choose whether to import all your subjects or just certain subjects.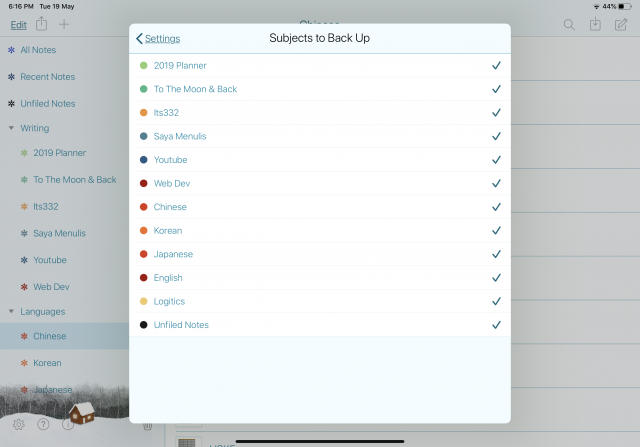 If you don't need the auto-backup feature, you can turn it off.
Themes
One of my favourite features – themes!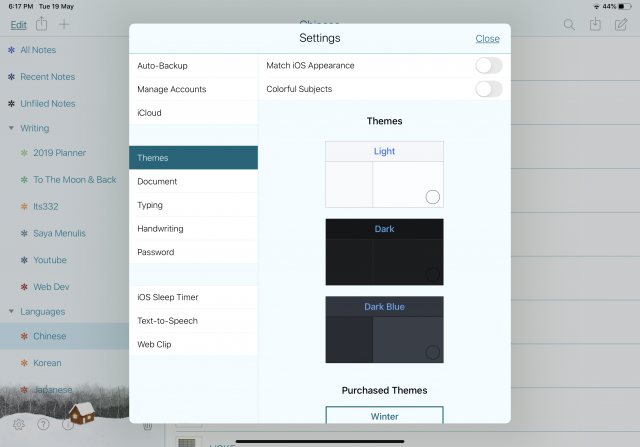 There are 3 free themes; light, dark and dark blue and also paid themes; Spring, Summer, Fall, Winter, and the Bubblegum Pack. I bought myself a Winter theme which is why mine looks prettier *tehee*.
Document

Set the notepaper default settings. My default paper setting is like the photo. The black paper looks so fancy and cool but I still love the old school white paper more.
Typing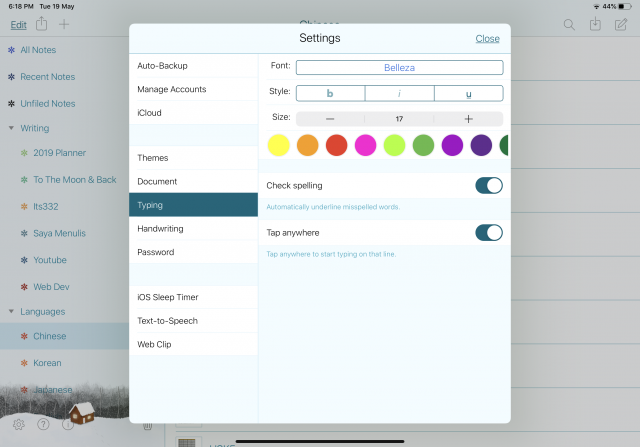 Set your typing aka text default settings here.
Handwriting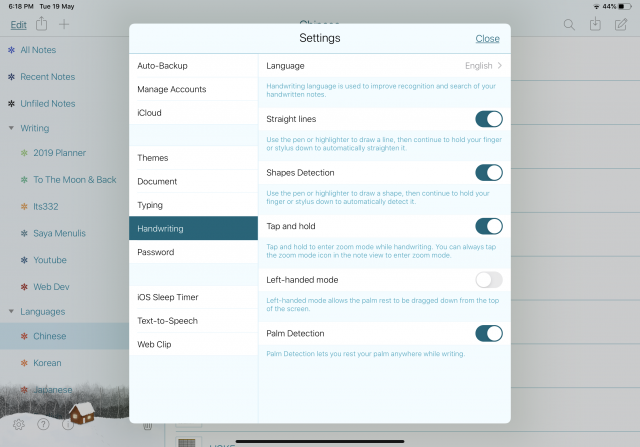 Lots of settings here so I turn most of it on except for the left-hand mode.
How to Set Password
If you have notes or PDF that contain confidential matter, you'll love Notability because you can set a password in the settings.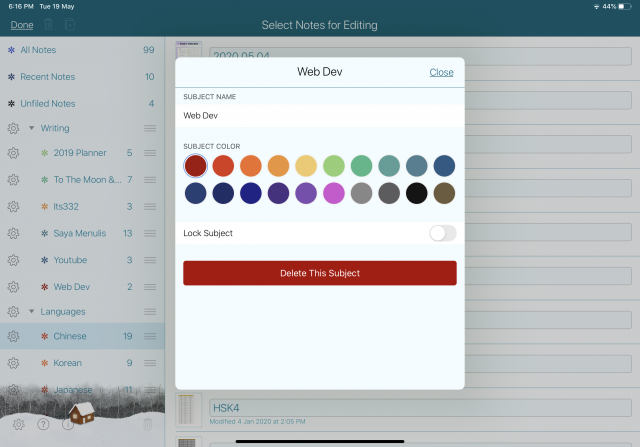 Or, if you just want to lock certain subjects, you can do so by editing the subjects.
Subjects and Dividers
Speaking about subjects, Notability note organization is by creating dividers and subjects. And in the subjects you can create notes or import files; PDF, PowerPoint, Excel File, etc.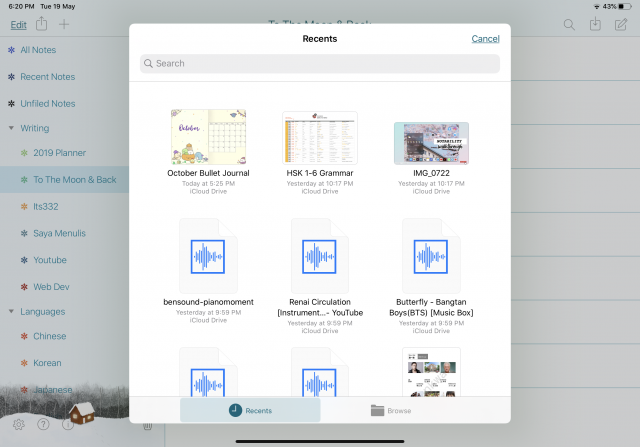 Handwriting and Highlighter
The handwriting and highlighter settings are basically the same. You can choose the pen thickness and colours. With Notability new update, the highlighter feature has improved compared to before. The highlight now goes beside the text. for example, refer to one of my notes below.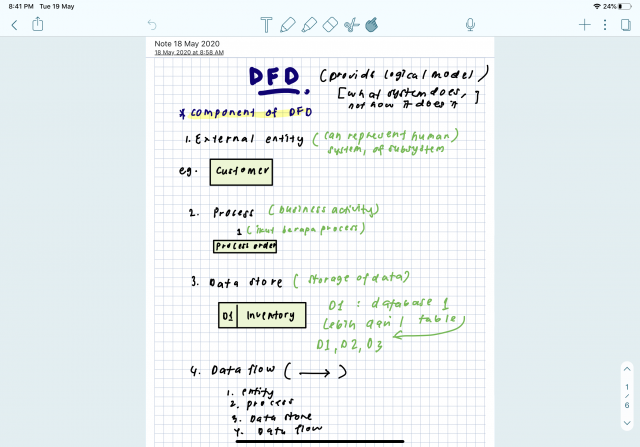 YOU MIGHT ALSO LIKE
Typing aka Text
I download fonts from the iFont app. It's free and so many cute fonts that you can use to write beautiful notes or bullet journal.
Eraser and Add Media
Pointer for Presentation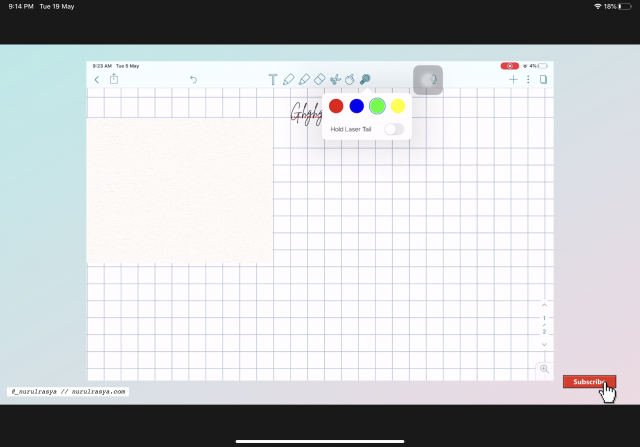 A very useful feature for those who want to do presentation/lecture with the app.
How to Multitask/View 2 Notes at the Same Time
To view 2 notes at the same time, swipe the left side to the right and tada! your notes are perfectly aligned side by side.
Record Audio
To record, click on the microphone icon.
Export Your Notes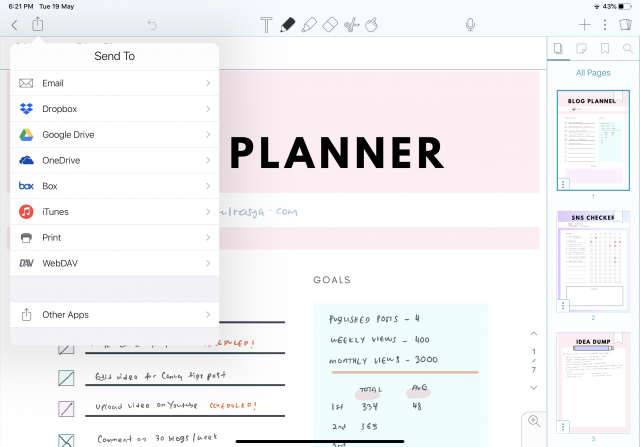 Here's how to export your notes. Pretty easy.
Summary
This app is great and with 2020 new updates, the app has gotten better than before so I hope this post would be helpful if you have an iPad and is thinking on what app to buy for note-taking or bullet journaling.
I've also made a video on the 2020 Notability walkthrough and you can watch it from my channel below.
Does anyone here use any app for digital note-taking? Or do you guys prefer the conventional note-taking method more?