Hi guys! and hajimemashite (read: nice to meet you) to new readers! I've been receiving emails and DM asking for how to study in Japan and I think now is a great time to do so as SPM result has been announced on March 6th. So, here is my study in Japan guide for SPM leavers.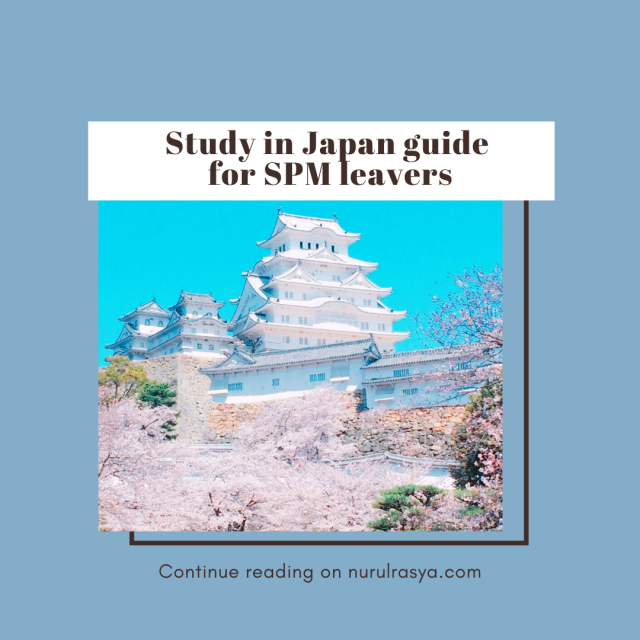 If you're one of the SPM candidates, congratulations! You've done well and no matter what your result is, give yourself a pat in the back.
For non-Malaysian, you might be wondering what SPM is.
SPM is a national exam for Form 5 high school students which the results would be the ticket to guarantee a spot in college or scholarships. The better your result is, the higher the chance to win scholarships and college placement.
And this also applies to those who want to study abroad in Japan under a scholarship program.
Currently, there are 4 places in Malaysia who offered Japan preparatory program sponsored by JPA, MARA, Petronas etc.
Study In Japan Guide For SPM Leavers
INTEC, Shah Alam
There are actually 2 Japan prep programs at INTEC. One is Kumpulan Teknikal Jepun (KTJ) and another is a new program (I was the first batch *wink*) called PSJ which I've no idea what it stands for.
KTJ is a full scholarship engineering/architecture program. You will take 2 years prep program at INTEC and further your study at 高等専門学校 aka Kosen for 3 years in Japan. Kosen is a technical high school (think Polytechnic)so if you want to experience Japan high school life; wearing uniforms, club activities, culture festival etc. choose KTJ. Just be warned that KTJ has the longest study period.
2 years at INTEC, 3 years at KOSEN, and another 2 years at university. Total= 7 years.
PSJ and IBT are the only places who offered a non-science major program. Among the programs, PSJ has the shortest study time in Malaysia (precisely, 9 months) and further the foundation program at Tokyo Japanese Language School (JASSO) for a year then 4 years degree at university.

To be honest, going to Japan with only 9 months Japanese study is pretty tough but your Japanese speaking level would improve tremendously and the sensei at JASSO would help you on your study and life in Japan.
YOU MIGHT ALSO LIKE
INTEC program merits and demerits:
Merits:
Longer study time in Japan=more time to speak in Japan=higher fluency level *up to debate*
Japan high school student experience for KTJ students. A dream comes true for anime fan who admires Japan high school life.
At both Kosen and JASSO, the dorm is provided so the rent is cheap.
Demerits:
Longer study time
To enter uni, you need to take EJU/ entrance university exam so the costs to take the test to the uni and examination fees can be expensive.
Not allowed to do a part-time job during Kosen and JASSO time.
Has curfew. I don't know about Kosen but at JASSO, the curfew is until 11 PM.
Ambang Asuhan Jepun (AAJ) UM, Kuala Lumpur
A full scholarship program by JPA. Only offer engineering/science courses so minimum A- for Add Maths, Physics etc. are required to be eligible to apply to AAJ.
For AAJ students, you will complete your study for 2 years at UM and further your 4 years degree in Japan.
AAJ program merits and demerits:
Merits:
JPA would take care of your well beings until you get your degree in Japan compared to let's say M*R* who gave my batch the wrong study period on our contract #facepalm
You'll take your degree at a reputable national/public university #jealous
Demerits:
Bonded with a working contract with government/GLC for a set period
You can read more on AAJ experiences below:
Institut Bahasa Teikyo (IBT), Kuala Lumpur
As I mentioned before, IBT offers both science and non-science programs. Same as AAJ, you will spend 2 years at IBT and take your degree for 4 years in Japan.
IBT program merits and demerits:
Merits:
Offer non-science program. Majority of Malaysian students in Japan are engineering major so if you want to take economics, marketing etc. IBT is for you
Open to scholarship and self-sponsored students
Demerits:
From my research, IBT didn't have their own dormitory and you need to share it with students from HELP university but the dorm looks awesome with air-conditioner and all. We don't have aircon at INTEC T_T
IBT experiences below:
Malaysia Japan Higher Education Program (MJEHP/JAD), Beranang -> UNIKL JUP, MFI, Bangi
Apparently, MJHEP has changed its branch from Beranang to Bangi but the program remains the same. 3 years diploma in Malaysia and 2 years in Japan.
MJHEP program merits and demerits:
Merits:
Shortest study period. Even if you fail the exam that would decide if you can go to Japan, you can still use the diploma to further your study in Malaysia or start working
Used to be full scholarship with no contract working with the government
Demerits:
Only 2 years in Japan. Usually, MJHEP students would pursue Master in Japan but with COVID-19 virus pandemic and the global economy in recession, I don't think Malaysia would offer a scholarship for a Master/PhD program now.
MJHEP experiences below:
How to apply, minimum requirements etc.
ALEPS aka Alumni Look East Policy Society has created a helpful graphic guide for those who want to pursue their study in Japan. You can apply and check the requirements from the QR code provided below.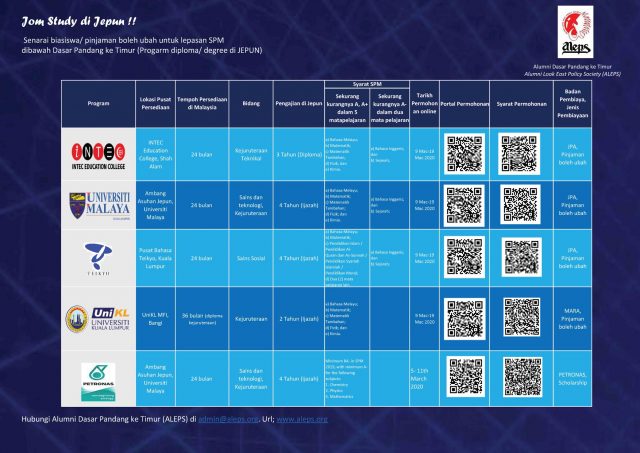 If you have any questions, you can ask me in the comment section below. Or you can contact me directly on either Twitter or Instagram at @_nurulrasya.
For others, if you're interested in studying Japanese, look no further as I've written a detailed study Japanese guide for beginners below. *wink*
YOU MIGHT ALSO LIKE