A short and simple study in Japan guide for SPM leavers looking for an opportunity to study in Japan.
Hi guys! and hajimemashite (read: nice to meet you) to new readers! I've been getting a lot of emails and DMs lately, asking about how to study in Japan. Well, I'm happy to say that now is a fantastic time to share a study in Japan guide for SPM leavers, especially since SPM results will be out on March 6th.
UPDATE: Wow, can you believe it's been two whole years since I first shared my study in Japan guide for SPM leavers? Time really does fly! But fear not, my friends, because I'm back with an even more updated and exciting 2023 version! Get ready to pack your bags and embark on a new adventure in Japan!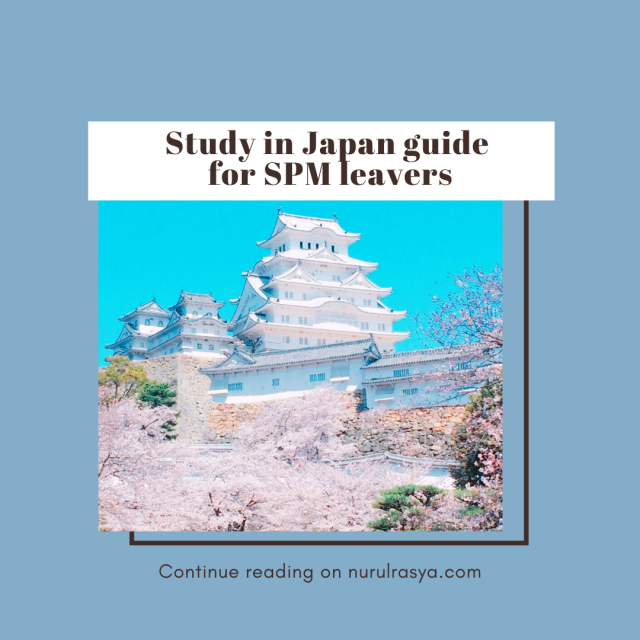 Congratulations, SPM candidates! Regardless of your exam results, you should be proud of all the hard work you've put in. Take a moment to give yourself a pat on the back and celebrate your achievements!
If you're not from Malaysia, you might be wondering what SPM is all about.
Well, it's a national exam for high school students in Form 5. Your results on this exam can determine whether you get a spot in college or earn scholarships. The better you do, the more opportunities you'll have, including the chance to study abroad in Japan on a scholarship program!
Luckily, there are several places in Malaysia that offer a Japan preparatory program sponsored by the government (JPA), as well as semi-government organizations like MARA, Petronas, Yayasan Terengganu, and Yayasan Telekom.
Study In Japan Guide For SPM Leavers
INTEC, Shah Alam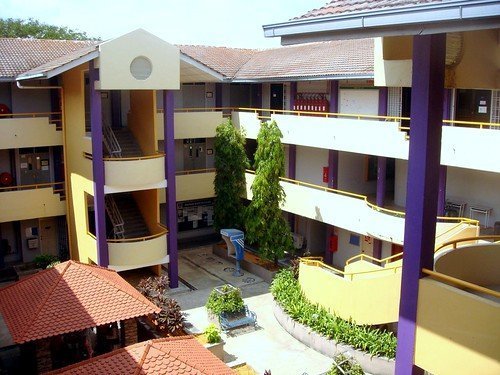 Did you know that there are two Japan preparatory programs at INTEC?
One of them is called Kumpulan Teknikal Jepun (KTJ), which is probably more well-known. But there's also a newer program called PSJ, which not many people know about. In fact, I was in the first batch of PSJ and I still have no idea what PSJ stands for!
Kumpulan Teknikal Jepun (KTJ)
KTJ is a full scholarship engineering program. You will take 2 years prep program at INTEC where you have to pass the Monkasho exam. After that, you will further your study at 高等専門学校 aka Kosen for 3 years in Japan. Kosen is a technical high school (think Polytechnic).
If you're interested in experiencing Japanese high school life, including wearing the traditional school uniforms, participating in club activities, and taking part in cultural festivals, then KTJ may be the right program for you. However, it's important to keep in mind that KTJ has the longest study period compared to other preparatory programs
2 years at INTEC, 3 years at KOSEN, and another 2 years at university. Total = 7 years.
PSJ and PBT are two of the few places that offer non-science major programs for studying in Japan. PSJ, in particular, has the shortest study time in Malaysia at just 9 months. After completing the program, you can enroll in a 1-year university preparatory program at the Tokyo Japanese Language School (JASSO). Once you've passed the EJU and entrance exam for the university of your choice, you can then start your 4-year degree program.
If you're looking to pursue a non-science major in Japan, then PSJ could be the perfect option for you. Graduates of the program have gone on to study a variety of fields, including Japanese linguistics (like myself!), international relations, architecture, engineering, and arts.
So, no matter what your interests may be, PSJ can provide you with the foundation you need to pursue your desired degree in Japan. If you're passionate about studying in Japan and exploring its culture, then PSJ is definitely worth considering.

To be honest, going to Japan with only 9 months of Japanese study can be challenging. However, you can expect your Japanese-speaking level to improve tremendously during your time in PSJ, and the staffs and sensei at JASSO will also be available to provide assistance with your studies and daily life in Japan.
It's important to keep in mind that due to the Covid-19 pandemic, SPM results are now usually released in June, which is three months later than the usual timeline. This means that, technically, you would have only six months to learn Japanese before starting the PSJ program.
But don't let this discourage you.
Like I mentioned earlier, the people at JASSO are committed to helping you succeed and will push you to reach your full potential. Plus, being surrounded by the Japanese language and culture in Japan can also help to accelerate your Japanese language learning process.
If you want to know more about how life in JASSO, check out my experience below.
YOU MIGHT ALSO LIKE
INTEC program merits and demerits:
Merits:
Full scholarship (convertible loan).
Opportunity to experience Japanese high school life, including wearing traditional uniforms, participating in club activities, and taking part in cultural festivals.
Potential to achieve a higher level of fluency in Japanese language through longer study period.
Dormitory provided, which reduces cost of rent compared to renting an apartment outside.
Provides non-science pathway (PSJ).
Demerits:
Longer study period required to enter university for KTJ program.
The cost of taking the EJU and university entrance exams can be expensive; travel and accommodation costs if your dream university is far from Tokyo.
Part-time job not allowed during Kosen and JASSO program.
Strict rules and curfews in place – at JASSO, curfew is until 11 PM.
During my time at INTEC, we used to bring our own standing fan because the room only have one tiny fan to share between roommates but new students at INTEC now have the option to live at Kristal Residential in Seksyen 7, Shah Alam, which have with air conditioning and also bigger and cleaner room!
Ambang Asuhan Jepun (AAJ) UM, Kuala Lumpur
The AAJ program is a full scholarship program sponsored by JPA that only offers engineering and science courses. To be eligible to apply for AAJ, you must have a minimum A grade in subjects such as Add Maths and Physics.
AAJ students complete a 2-year study program at UM before continuing their studies with a 4-year degree program in Japan.
AAJ program merits and demerits:
Merits:
You can earn your degree at a top national or public university in Japan.
JPA takes care of your well-being throughout your studies in Japan.
Demerits:
It can be tough during your first year as you need to take your degree with Japanese native speakers as your classmates but, most survived, so you will do well if you work hard.
You can read more on AAJ experiences below:
Pusat Bahasa Teikyo (PBT), Kuala Lumpur
As I mentioned before, PBT offers both science and non-science programs. Same as AAJ, you will spend 2 years at PBT in Kuala Lumpur and take your degree for 4 years in Japan.
PBT program merits and demerits:
Merits:
Offers non-science programs for Malaysian students who want to study in Japan.
Most Malaysian students in Japan are engineering majors, so PBT is a great option for students interested in fields such as economics, marketing.
Eligible for both scholarship and self-funded students.
Demerits:
PBT does not have its own dormitory and students may need to share dorms with students from HELP university. The dorms look amazing tho and are equipped with air conditioning, which is a definite plus in the Malaysian heat.
PBT experiences below:
Malaysia Japan Higher Education Program (MJEHP/JAD), Beranang -> UNIKL JUP, MFI, Bangi
Apparently, MJHEP has changed its branch from Beranang to Bangi, but the program remains the same. 3 years diploma in Malaysia and 2 years in Japan.
UNIKL JUP program merits and demerits:
Merits:
Shortest study period to get a degree (5 years).
Even if you fail the exam to study in Japan, you can still use the diploma to further your studies in Malaysia or start working.
Used to offer full scholarships with no requirement to work with the government.
Demerits:
Only 2 years in Japan.
JUP students usually pursue a Master's degree in Japan, but due to the COVID-19 pandemic and global recession, it's unlikely that Malaysia would offer scholarships for Master's or PhD programs at this time.
JUP experiences below:
How to apply, minimum requirements etc.
ALEPS (Alumni Look East Policy Society) has created a graphic guide to help those who want to study in Japan. The guide provides information on how to apply and the requirements for studying in Japan, and is still relevant today.
To increase your chances of getting a scholarship, aim for Straight As in your SPM results, preferable no A- as the competition is getting tougher every year. Scan the QR code provided to access the guide and start your journey to studying in Japan!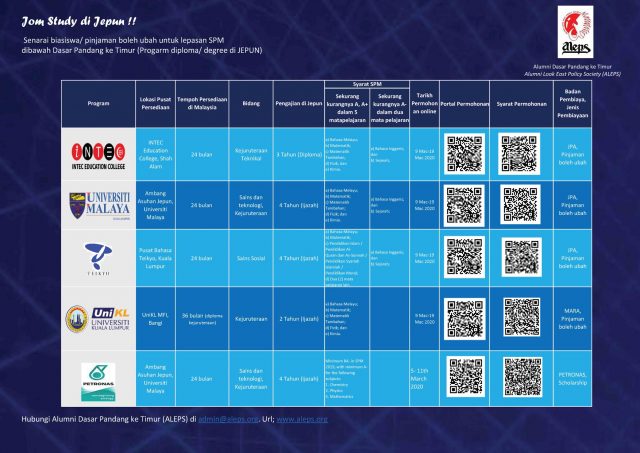 If you have any questions, feel free to drop a comment below or contact me directly on Twitter or Instagram at @_nurulrasya.
Also, if you're interested in learning Japanese, check out my detailed guide for beginners below.
YOU MIGHT ALSO LIKE