Hi everyone and Happy New Year! *2 weeks late lol*. To celebrate the new beginning of 2021, I would like to introduce to you 4 FREE 2021 digital planners to start a productive new year.
I'm a big fan of any product or apps with the productivity tag on it and one of my favourite every day apps is GoodNotes, where I store all my plan to conquer the evil called procrastination.
I've tried many task and note-taking apps like Notion, Apple Notes, Notability etc. but writing the to-do task daily on GoodNotes is proven beneficial for me which is why I've been use GoodNotes solely for the purpose of digital planning.
Notability is still one of my favourite note-taking apps but I like how you can crop images easily on GoodNotes. If you're new to the whole digital note-taking and unsure on what apps to buy you can refer my article on Notability vs GoodNotes and Notability walkthrough below.
4 Free 2021 Digital Planners To Start A Productive New Year
Just to be clear that none of the digital planners belong to me. The planners are provided for free from 4 of my favourite note-taking Youtubers. You can found the download link by clicking on the respective channels' below.
The planner by Dodo and Mimi is the epitome of cute. I originally used her digital planner but after using it for a week, I noticed I prefer planner with white background as I'm more free to play with colours and stickers.
Trang is the Youtuber that convinced me to buy GoodNotes. Her voice is cute and her note-taking tips and vlog video are calming. I tried hers for a day and decided that her planner is 'overwhelming'. I prefer simpler planner hence why I tried Yesiri's planner next.
Okay, so Yesiri's planner is almost perfect. Almost. Because, I find it too simple LOL.
And finally I found a winner! A simple but somehow suits my needs for 2021 digital planner by Heugimja. She also gives away free stickers that you can use to decorate your planner with.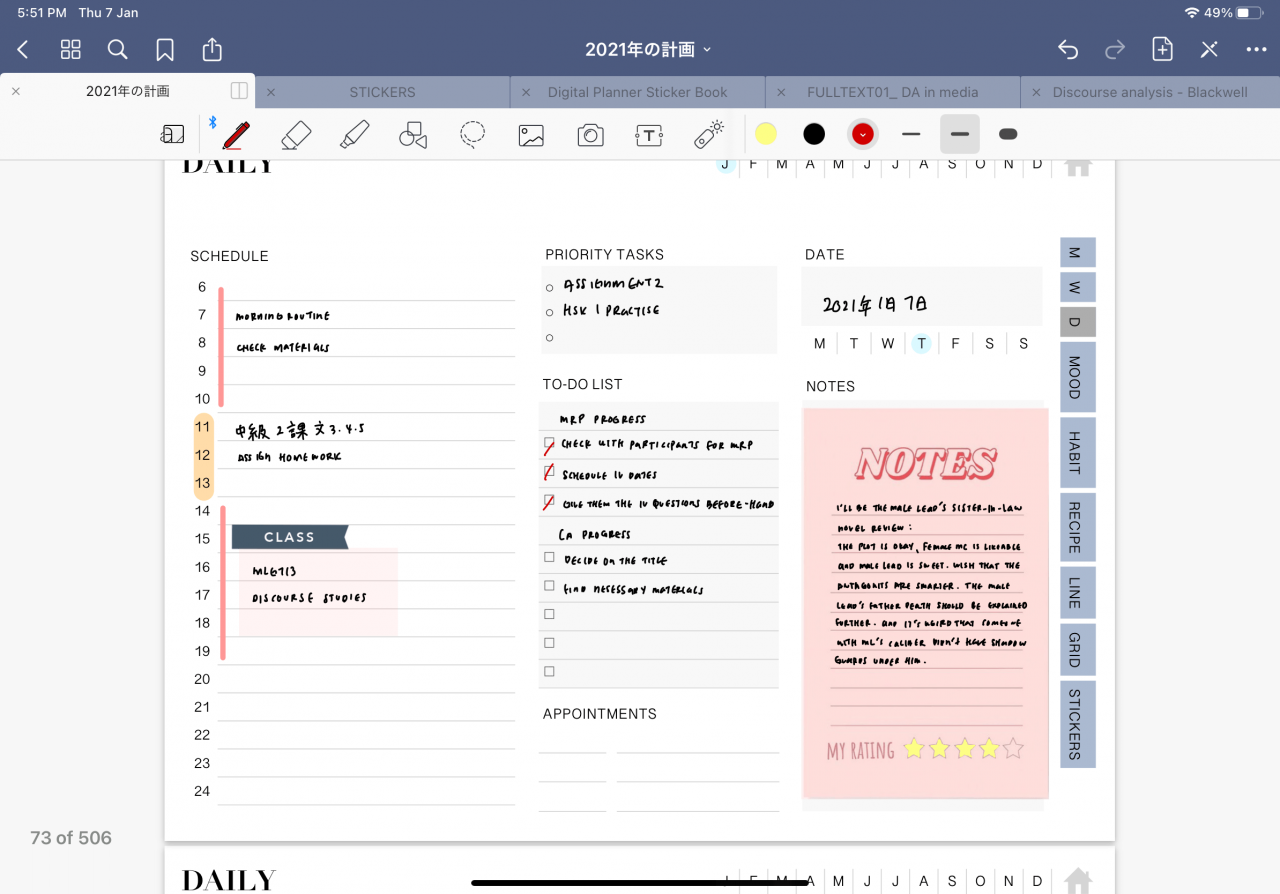 To sum up, all 4 planners are absolutely beautiful and I can't believe that they give it our for free? I did a Tik tok video on how I use the planner below. Give me a like or a comment if you like it. *wink*
p/s: I'm not the only one who ended up creating Tik tok account during the Covid-19 pandemic right?