If you're bored and have nothing productive things to do at home,  I have a perfect recipe for you to try – Carbonara spring rolls. With only 4 ingredients, this delicious 'melt in the mouth' snack is also perfect for cooking noobies who want to try cooking.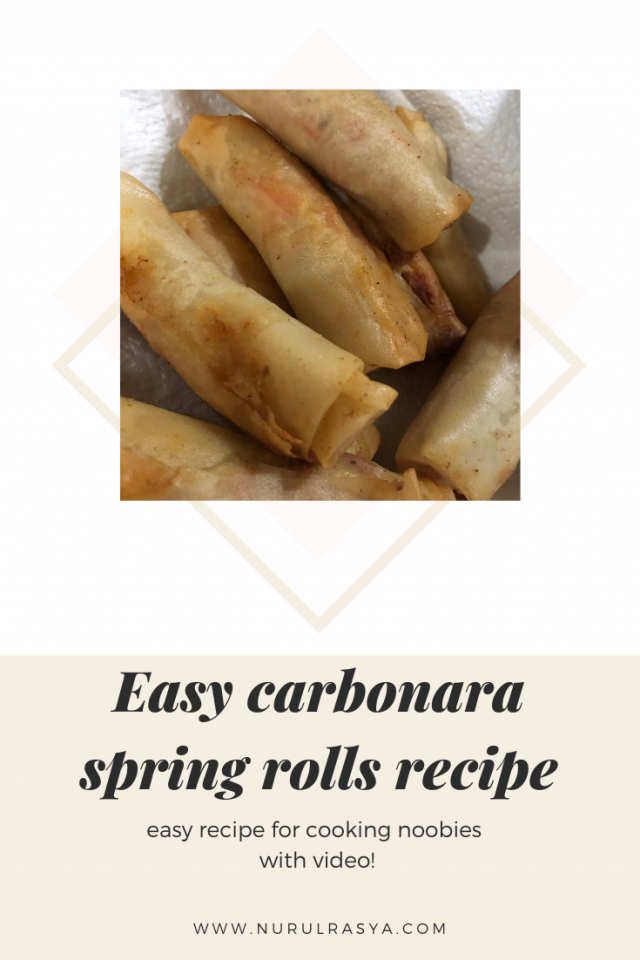 Easy Carbonara Spring Rolls Recipe For Cooking Noobies
The ingredients
Spring roll pastry
Prego Carbonara Mushroom / Herb Cheese
Carrots
Chicken Sausage

Note: The cellotape is not part of the ingredients
YOU MIGHT ALSO LIKE
How to make carbonara spring rolls
The first step is to prep all the ingredients; minced the sausages, cut the carrots into thin slices, and open the prego carbonara mushroom bottle. I personally prefer Herb and Cheese flavour more but we only have the mushroom one at home.
Pour around 4-5 spoons of cooking oil into a pan and heat it for 1 minute.
Mix all the ingredients;  the minced sausages, thinly sliced carrots, carbonara mushroom sauce and cooked it until the texture turns thick and creamy.
After the filling cooking is done, put a spoon of the fillings into the spring rolls pastry wrap and fold it neatly into a nice rectangular shape.
To ensure the wrap folds neatly, you can dab it with milk.
After you're done wrapping all the rolls, heat the pan again and deep-fried the spring rolls until it the skin turns yellowish-brown.

And voila! Your carbonara spring rolls are perfect to be eaten especially for tea time with a cup of hot tea.
I also made a video where you can watch it below. Enjoy cooking!
YOU MIGHT ALSO LIKE
So did any of you have tried this recipe before especially Malaysian? If you've any easy recipe to share, please do so in the comment section below! *wink*