The timeless in you is aware of life's timelessness. And knows that yesterday is but today's memory and tomorrow is today's dream.
― Kahlil Gibran, The Prophet
I came to Japan when I was 19 years old and fast-forward, five years have passed. Five freaking years. The first year I was here, everything felt foreign and every new thing that I experienced was exciting but one year became two and soon the novelty wore off. Now, in the final year of my degree, this might be my last chance of spending Ramadan in Japan so I dedicated this entry to commemorate my experiences.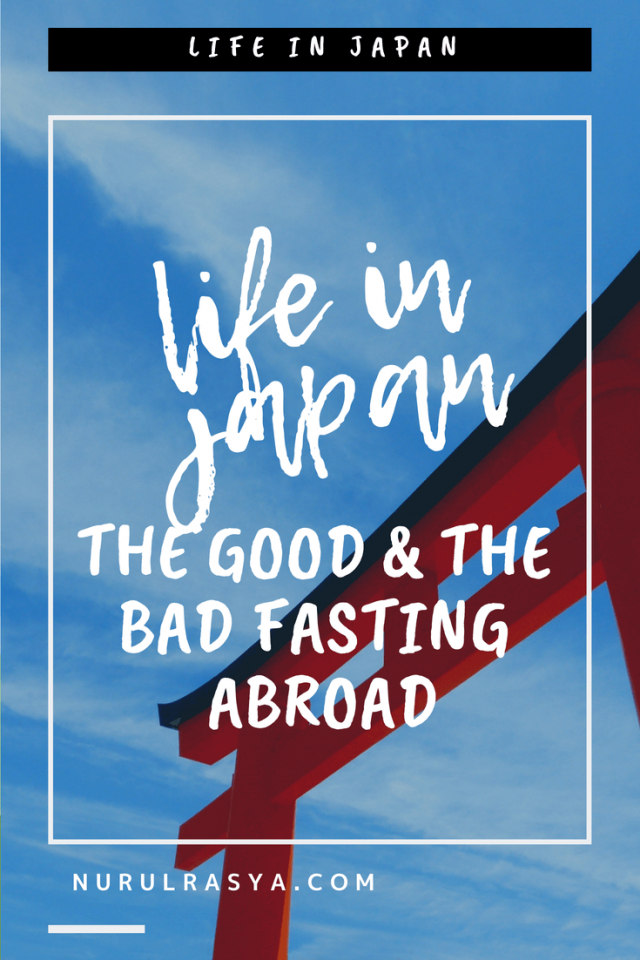 THE GOOD
---
1. BONDING
Being away from family and the comfort of home, the friends that I met here are the only place I could share my worries and happiness. #friendstilljannahlol
2. MEETING MUSLIMS FROM ALL OVER THE WORLD
Even though the nearest mosque, Kobe is an hour ride away by train, being able to stand in a saf with Muslims from other countries praying together is a blessing. And everyone looks so pretty with their own style of hijab.
O mankind, indeed We have created you from male and female and made you peoples and tribes that you may know one another. Indeed, the most noble of you in the sight of Allah is the most righteous of you. Indeed, Allah is Knowing and Acquainted.
AL HUJURAT: 13
3. A SENSE OF GRATITUDE
There are people out there who are fasting with longer hours or in a state of war where food and water are not enough for everyone and for me who is obviously been eating so well that I gain weight, Alhamdulillah.
THE BAD
---
1. LONGER HOURS OF FASTING
It was not until I came to Japan that I realised how easy Muslims in Malaysia have to practice Islam in general. Because of the four-season climate, prayer time changes daily and I had a shock of my life when Fajr prayer is at 2:20 in the morning.
2. HOMESICK
When I still lived in a hostel in Tokyo I would eat sahur and iftar alone. Well, since I'm the type who likes to spend my time alone in the first place it didn't affect me much.
Eating lies
3. BAZAR RAMADAN
Sobs. Don't hurt my heart more, please.
Maggi is good but I want to eat pau kaya. Give me my pau kaya!
Note: Happy Eid Mubarak for all Muslims all over the world!
#teambalikraya #janganjeles #hewhewhew #basuhpingganpunbasuhpingganlah