Welcoming people who want to travel to Seoul, South Korea as I've written a complete Seoul travel guide for first-timer to the land of K-POP and Kimchi.
South Korea has become one of the major travel destinations to visit especially due to the rise of K-POP, variety shows and K-dramas. I am one of the people who want to see how South Korea looks like in real life, tastes their delicious food and feeling like a princess wearing hanbok and I did THAT.
In fact, I just went there the last 3 weeks with my family and I reckon that instead of doing another generic 'what did I there' like the post here, it would be much more helpful to write a complete guidepost on Seoul as travelling can be daunting. More so to the people who barely have the privilege of money and time to do so.
So, if Seoul is in your travel bucket list, and you have absolutely no idea on where to stay, how much budget you need etc. welcome! This Seoul travel guidepost is for you! *wink*
Best Place For Accommodation
The best tips on picking a place for accommodation is how close your hostel/apartment/hotel to the station. A 10 minutes walk is no biggie if you're starting your day but certain hostels in Seoul are located on a steep hill so you need to take that into consideration because climbing the hill after a day touring Seoul sounds tiring.
I'd also recommend staying at a station with 2 subway line as you don't need to transfer train much. Below are my personal location recommendation and why.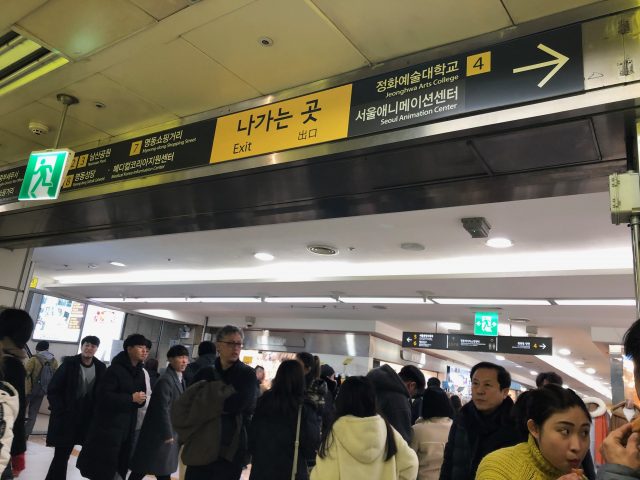 Myeongdong can be a bit expensive as the place is a hot spot among tourists due to Myeongdong Night Market and it's convenience. Myeongdong Station has Line 4 which is just 2 stops from Seoul Station.
Plus, the Nandaemun Market is just 8-10 minutes away on foot and people who LOVE shopping would absolutely love to stay here.
Recommended hostels and Airbnb:
Price: RM684 for 6 days and 5 night for 2 person
Room type: Twin room with bunk bed and private bathroom
Affordable and 5 minutes walk from Myeongdong Station. The owner owns a dog so be careful if you're afraid of any animals with furs like me. I stayed in a 1 room for 2 with private bathroom and the place is smaller than the photos provided.
They also have free breakfast like cereals and coffee but I've never tried it so I couldn't say much about the food quality. Be warned if you're bringing a big and heavy suitcase with you as there is no elevator.
Overall, good for people on a small budget.
Located between Chungmuro and Myeongdong Station, the place is extremely convenient location wise. Myeongdong Night Market is just 5-7 minutes on foot. I choose the place because I was travelling with my family and my mum want a kitchen to cook. The best thing is the apartment has washlet bidet! I miss bidet so much after leaving Japan. Btw, if you're not on Airbnb yet, click on this link to get your RM165 off for your first trip. *wink*
No photos because I'm lazy to take one.
As a Muslim, Itaewon is a great choice for accommodation as there are tonnes of halal restaurants for you to try. It's not easy to get halal food in South Korea. Most of us couldn't read Hangul and the Halal sign can't be trusted because some of the sellers just put the sign to attract Muslim tourists.
Be careful! I know few Malaysians who brazenly eat anything just because there is halal sign in front of the stall. You can watch on Daud Kim's Youtube video below to see more on the halal sign problem especially in Myeongdong Night Street which is why Itaewon is the best place to get halal food. 
Seoul Mosque is located at the top of a hill in Itaewon and along the way to the mosque, rows of halal restaurants can be seen. My personal favourites are Muree and Makan Restaurant.
Anyway, back to the accommodation. I've stayed at Itaewon Inn for 2 times and at an Airbnb between Itaewon Station and Hanganjin Station.
The place is okay. Good service and affordable price. What I love about the place is how close Itaewon Inn with halal restaurants. If I get hungry, I could grab a kebab with just 2 minutes walk.
I've never personally stayed around these stations but all 3 stations are extremely convenient to travel around. Direct line to Seoul Airport, bus station and shopping centre make the place a perfect location for your stay in Seoul. If you search around Airbnb or Booking.com, you would find many affordable and good place to stay.
Seoul Station even has this luggage mover? lol, no idea what this is but it helps when you're taking the train with big and heavy luggage.
Visa and Immigration
What You Need To Prepare

A return flight ticket.
Itinerary. I created my itinerary using Google Maps so I can locate the place easier.
Vouchers if you've already bought Wifi or train tickets from your country.
Enough money.
A credit card for an emergency.
Medicine for sore throat, fever etc.
Tackling Immigration For Malaysian
Recently, there are a lot of Malaysians working in South Korea illegally by misusing travel visa. I have read so many cases of Malaysians arriving at Incheon Airpot only to be sent back to Malaysia on the same day.
Tragic.
The tips are to dress smartly, prepare your itinerary, flights in one fail and be confident!
Budget
I spent roughly 8,000 won per day for food. We usually eat breakfast/dinner at the Airbnb by heating the instant rice pack, kimchi and eggs bought at the convenience store. And of course not forgetting Malaysian travel starter pack – Maggi.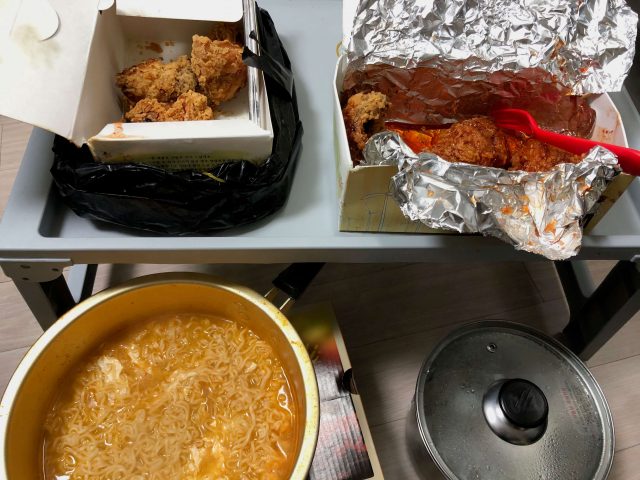 An example of how our dinner looks like. Hot spicy Maggi with eggs and fried chicken bought from Kampungku Restaurant nearby Myeongdong Station. Yummy!
One of my biggest regrets is to not book our stay earlier because all the good apartments with cheaper price are already sold out during my travel date.
For accommodation, you could get a cheap hostel for RM100 per night.
Again, same with above. I should buy my ticket flights during the sale. You could get a return ticket for under RM1000 from AirAsia during the promotion period.
Transportation & Useful Apps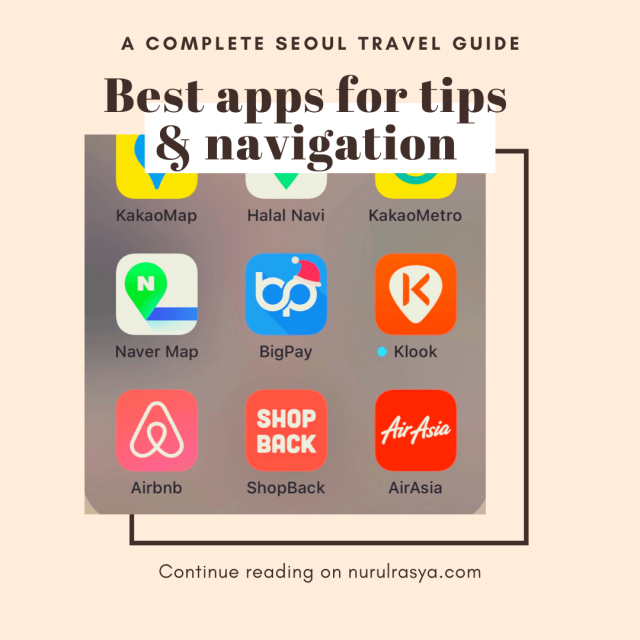 Our main transportation during our stay in Seoul is the subway. No worries if it is your first time riding one because there are apps in English that would make navigation easier.
My favourite app is Kakao Metro.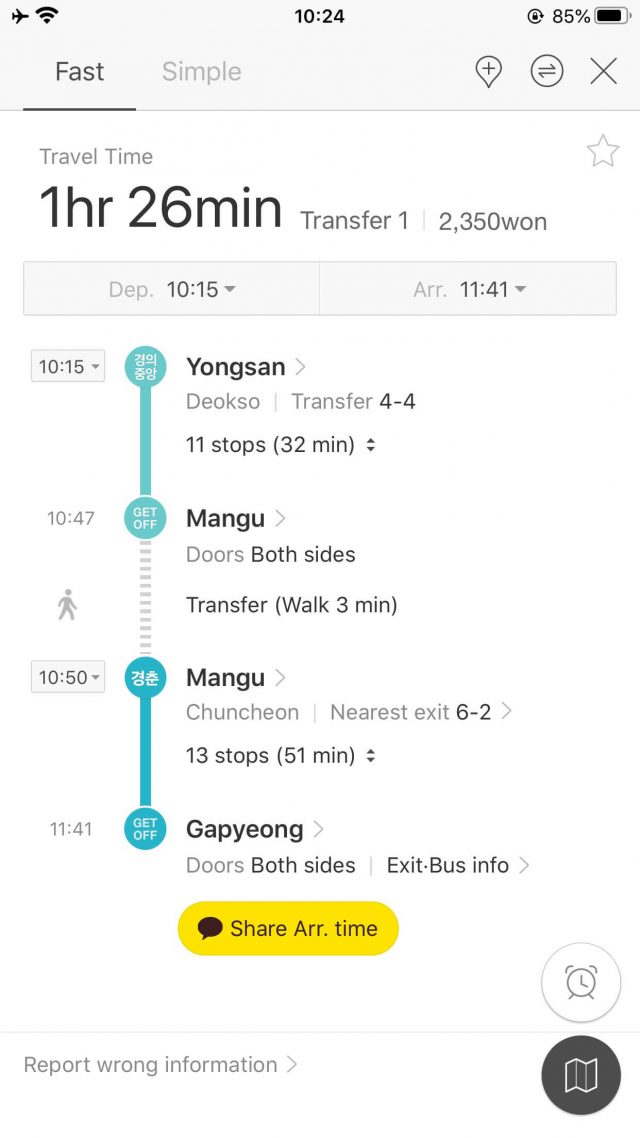 Above is one of the examples on I use the app to get to Nami Island by using only the subway. It shows when you should get off and the nearest exit.
Other useful apps that would be useful during your stay in Seoul:
Kakao Map & Naver Map for navigation.
Klook to purchase your train tickets, attractions and tour plan. I used it to book AREX train from Incheon Airpot to Seoul Station and wifi. By the way, use my referral code 2S34AH to get your RM15.
Big Pay for shopping and low currency money-changer rate. Referral code: PWWJ0LF9JL.
Airbnb/Booking.com for accommodation.
Halal Navi to find halal restaurants and prayer space.
Things To Do & Places To Visit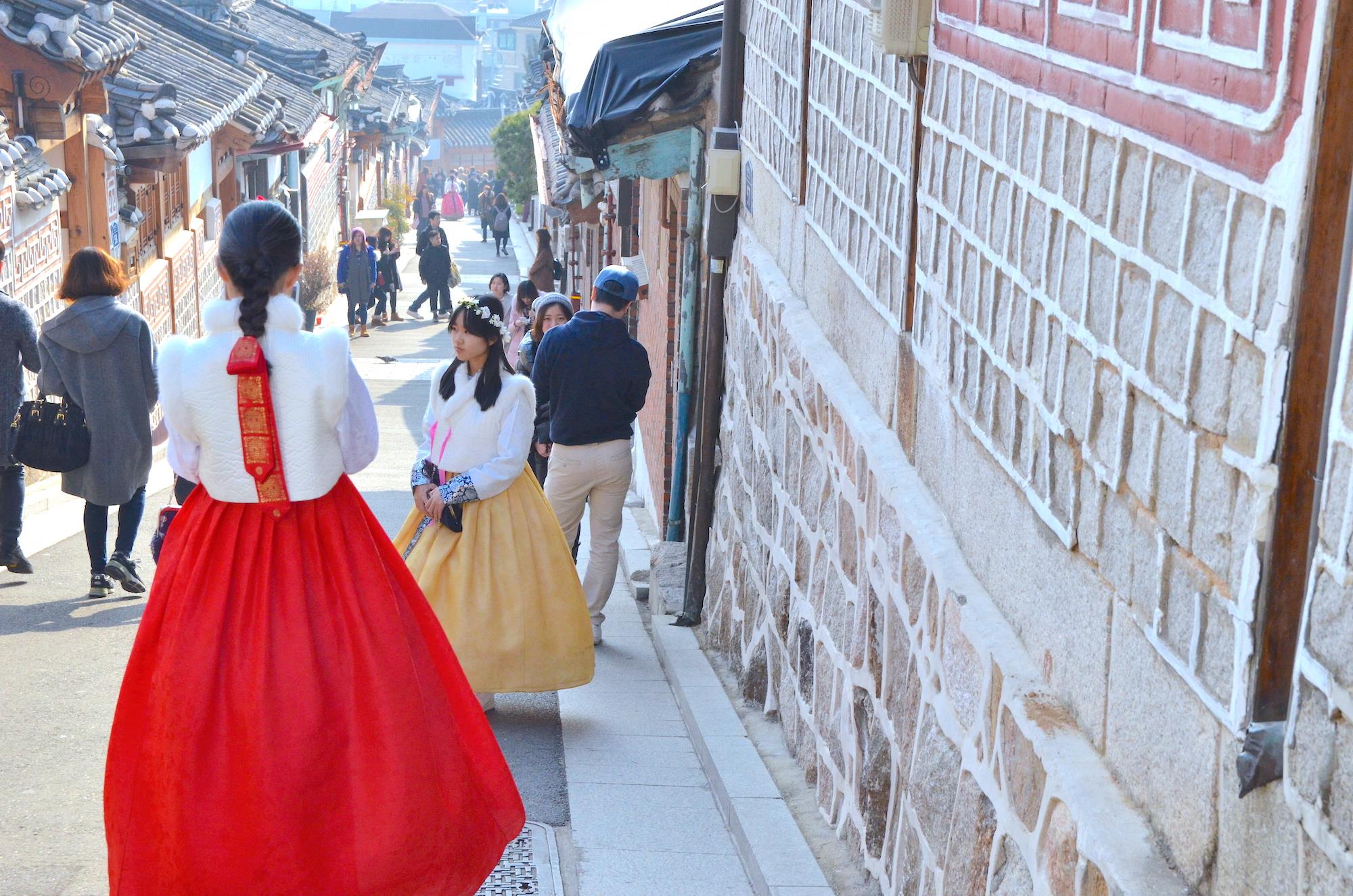 Where else can you get an experience feeling like a heroin in a Korean historical drama?
There are tonnes of rental hanbok store near Gyeongbokgong Palace and Bukchon Hanok Village. You just need to pick one.
A must-do for Kpop fan. I remembered went to FNC because my friend loves FT Island but what greets us instead is the closed sign lol.
Traditional Korean Castle/Village tour
If you wear Hanbok, you could get a free pass to enter Gyeongbokgong Palace. My recommended tour would be
Gyeongbokgung Palace-> Changdeokgung Palace -> Bukchon Hanok Village.
I went there in winter and it was extremely cold so don't forget to bring a heat pack to warm your hands.
YOU MIGHT ALSO LIKE
Aside from being famous from the Winter Sonata drama, Nami Island is a beautiful place with a lot of great spots to take photos.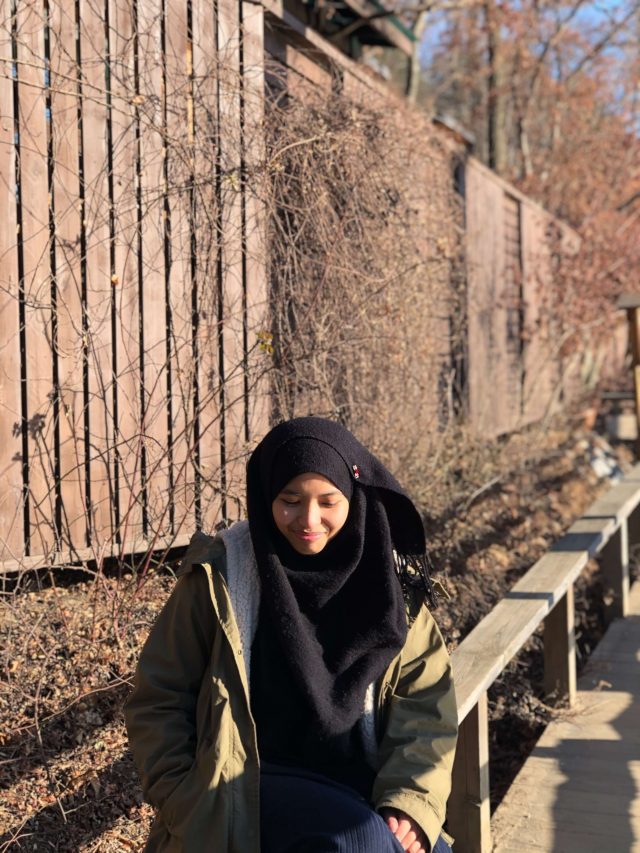 I looked cool. Might change a profile picture later.

The view would look fantastic on either autumn or spring. Unluckily, I went there in winter so all the trees are bare.
Photoshoot at Haneul Park in Autumn
A visit to Starfield Library For Book Lovers
I have no regret. The place is so beautiful and I'd love to have this as my personal library.
Ewha University to appreciate the architecture
A cup of coffee to warm your body
Seoul has so many coffee shops and I love drinking hot chocolate drink to warm my body in winter.
Shopping!
Best Shopping Place For Clothes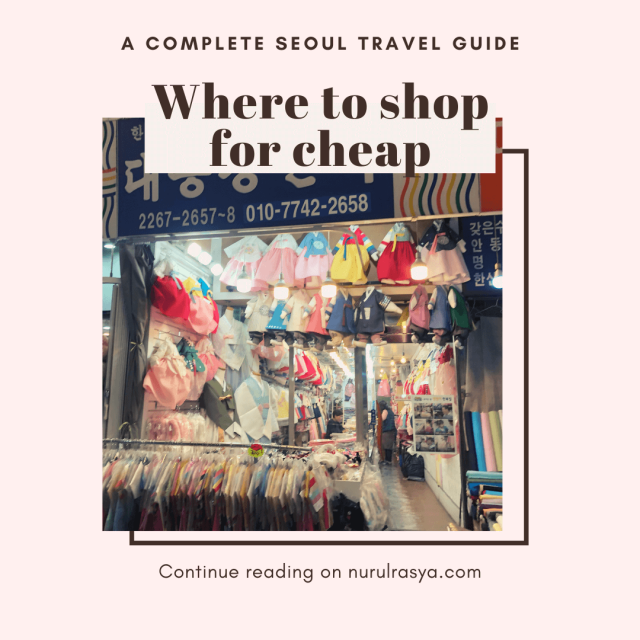 Myeongdong: Street Food, Cute socks, Kpop goods.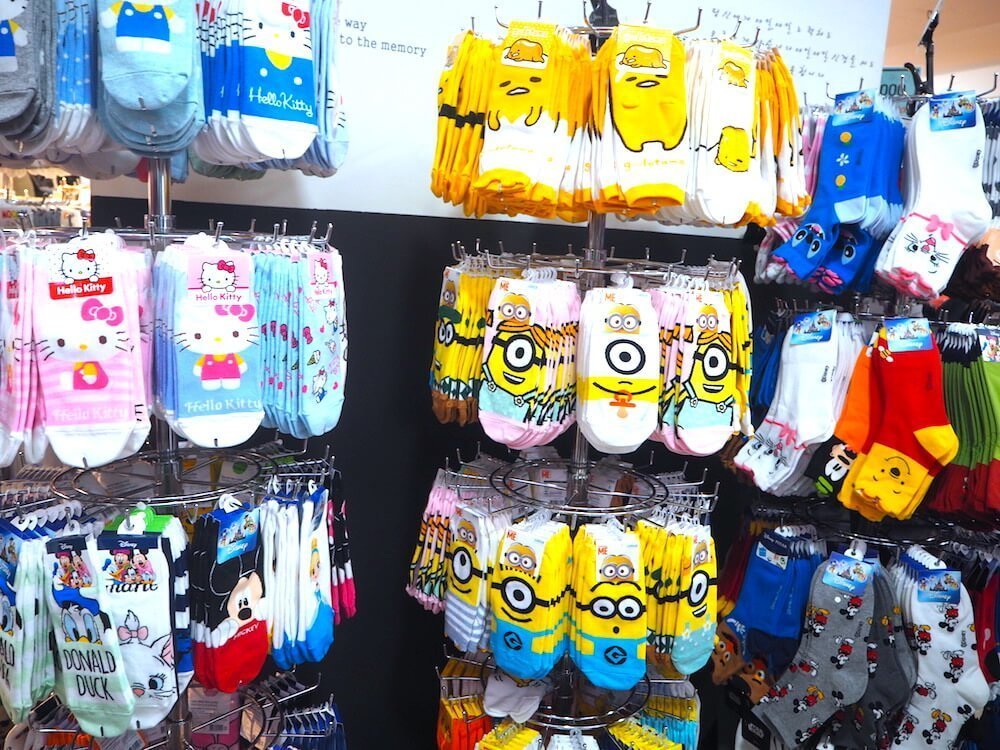 Ewha/Idae: Cosmetics, Clothes and Bag.
Tips: Buy souvenirs or cosmetic products at the same shop and the owner would give you ton of freebies! I got hand lotion, aloe vera gel, masks etc. because I bought it from the same shop.
Nandaemun: Clothes. Souvenirs like a keychain. The winter coat is especially cheap.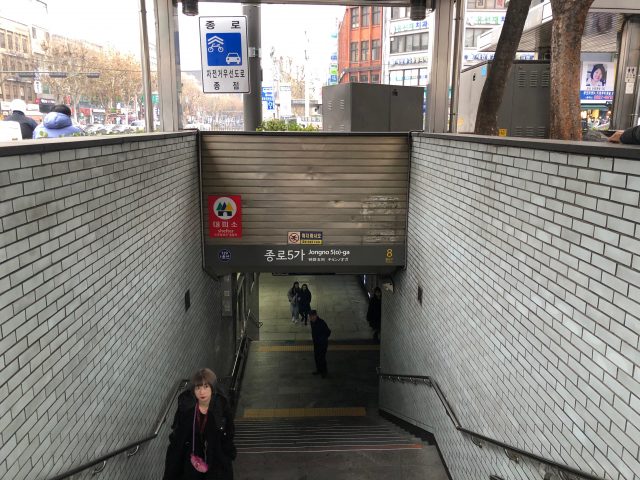 Gwangjang Market: Street food, kimchi, seaweed, hanbok and Korean cotton/silk.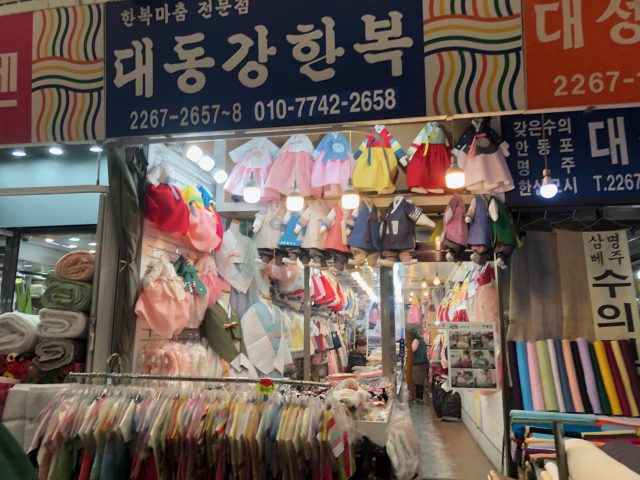 Itaewon: Cosmetics, souvenirs and halal food to bring home.
Top 10 Must-Buy Souvenirs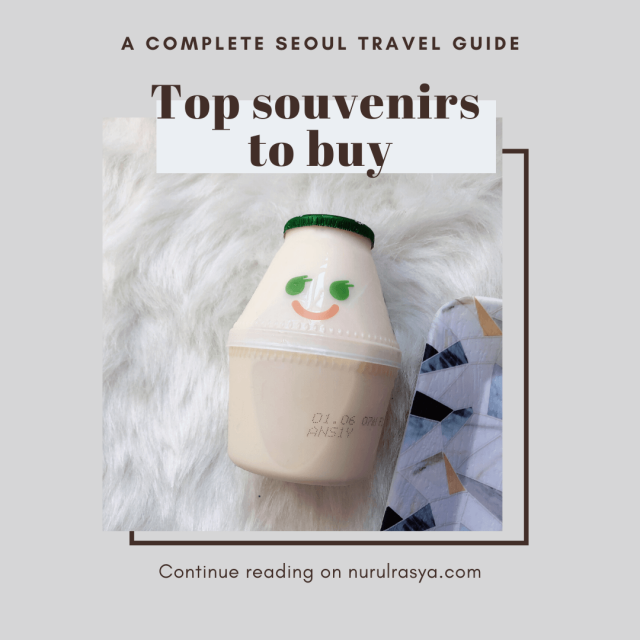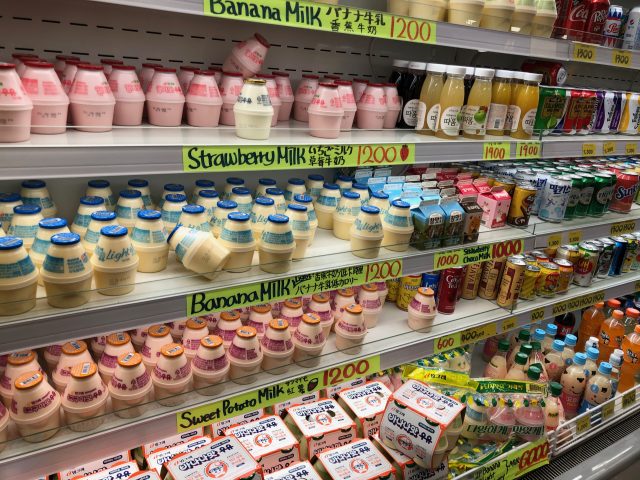 Seaweed
Kimchi
Stationery; Washi tapes, Notebooks etc. from Daiso
Nail clipper
Starbucks Tumblr. I bought the spring edition because it looks pretty and I'd love to visit Gyeongju in spring to see cherry blossoms.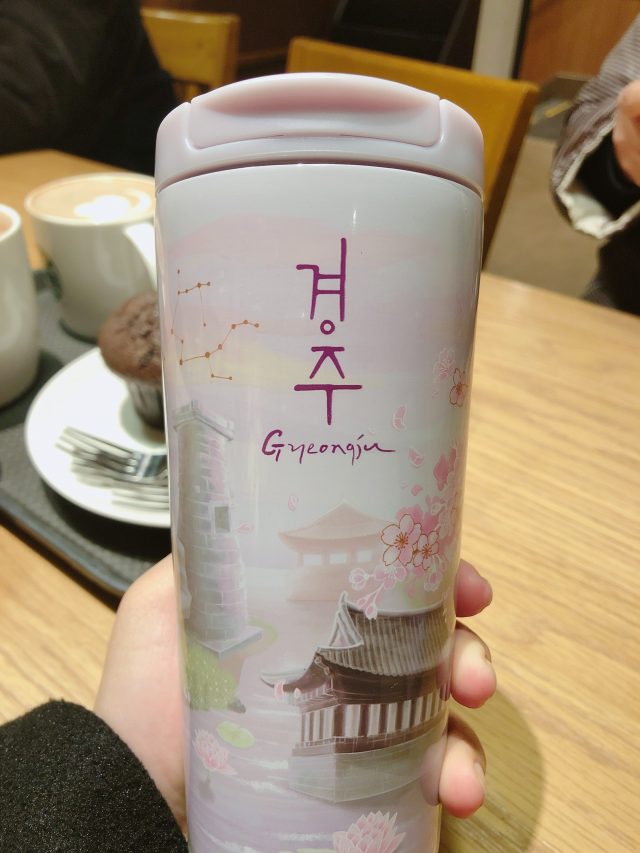 Fridge magnet
Mask sheets, hand cream and sunblock. Sunblock sold in Malaysia is so expensive. T_T
YOU MIGHT ALSO LIKE
Delicious Food
Top Must-Try Korean Street Food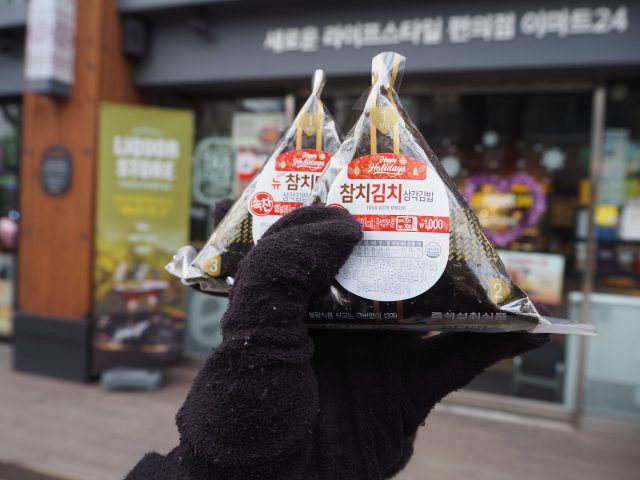 Hotteok (pancake with honey or red beans filling)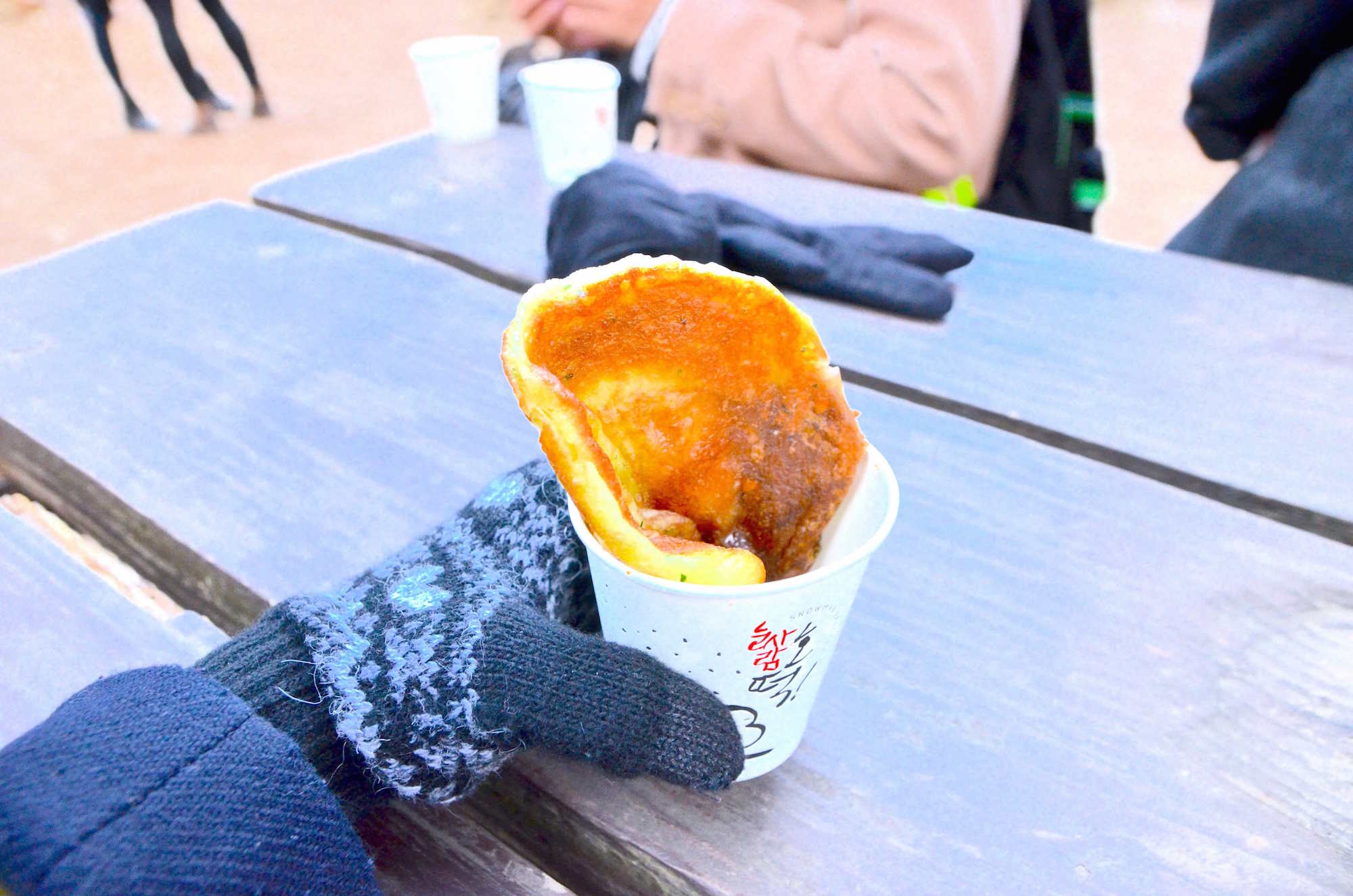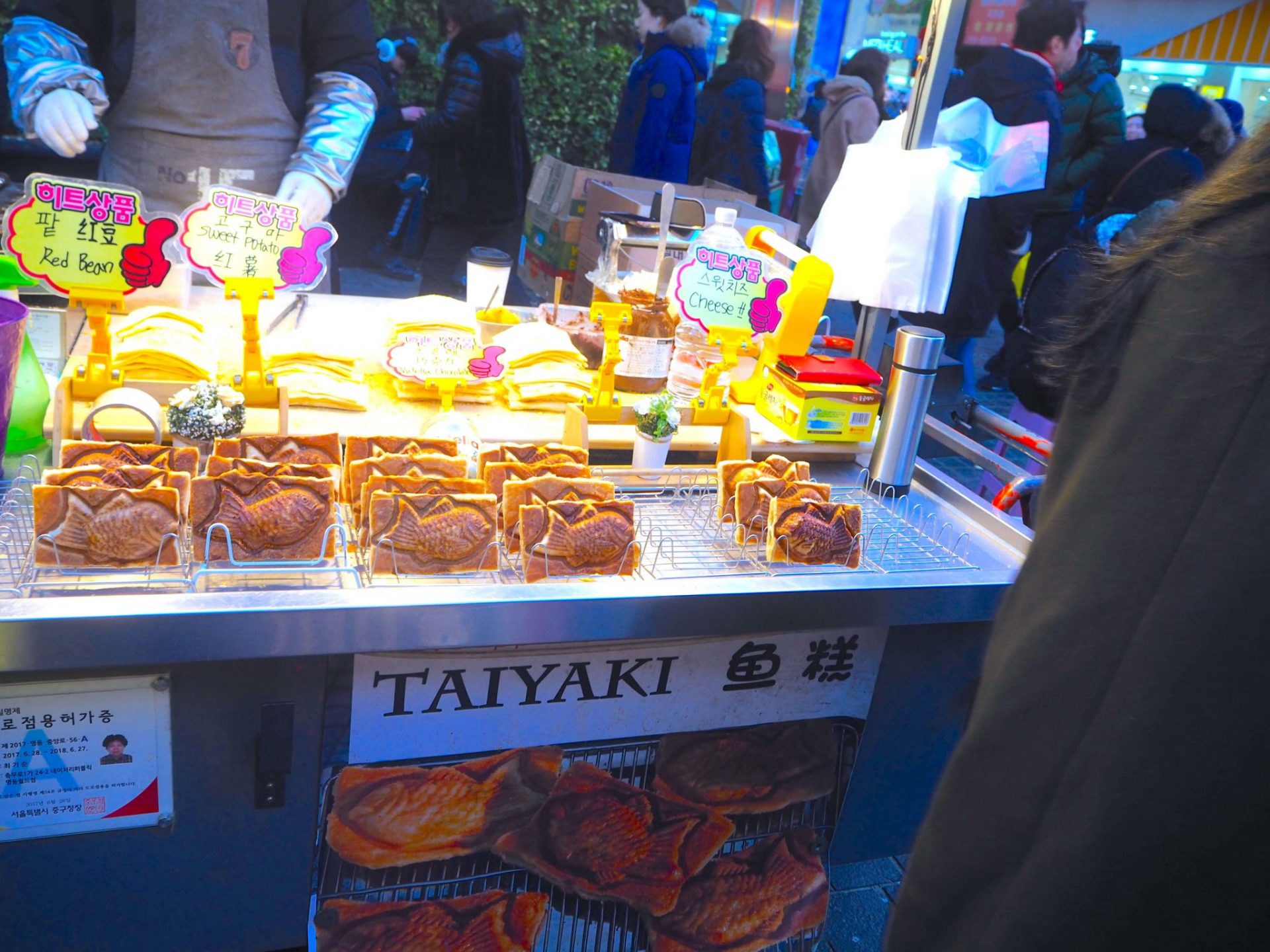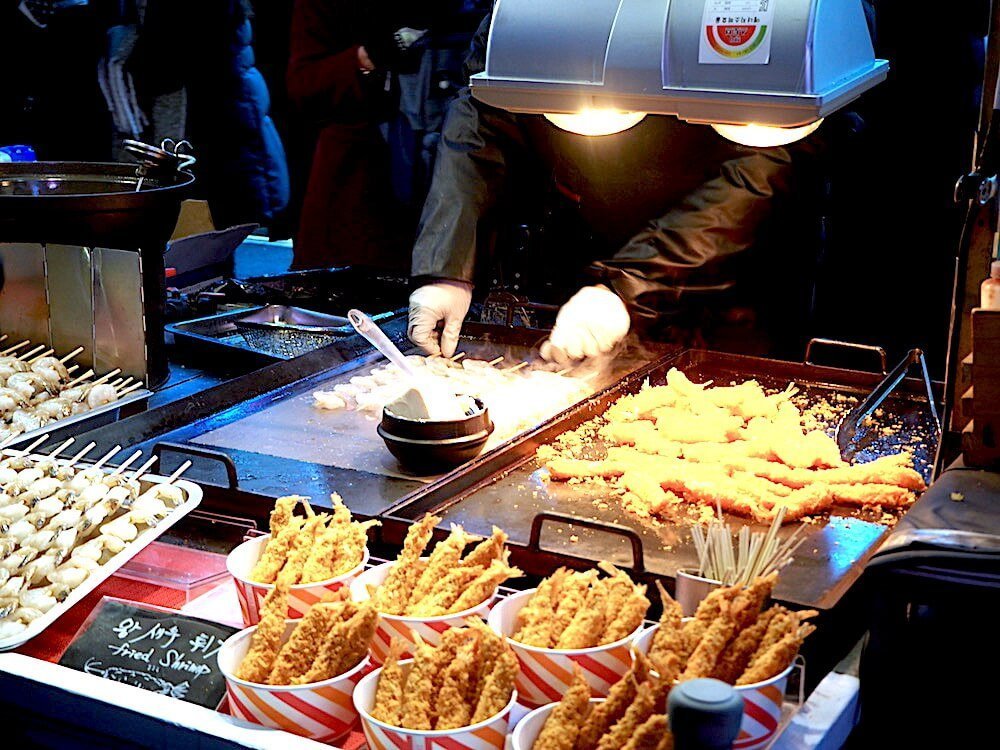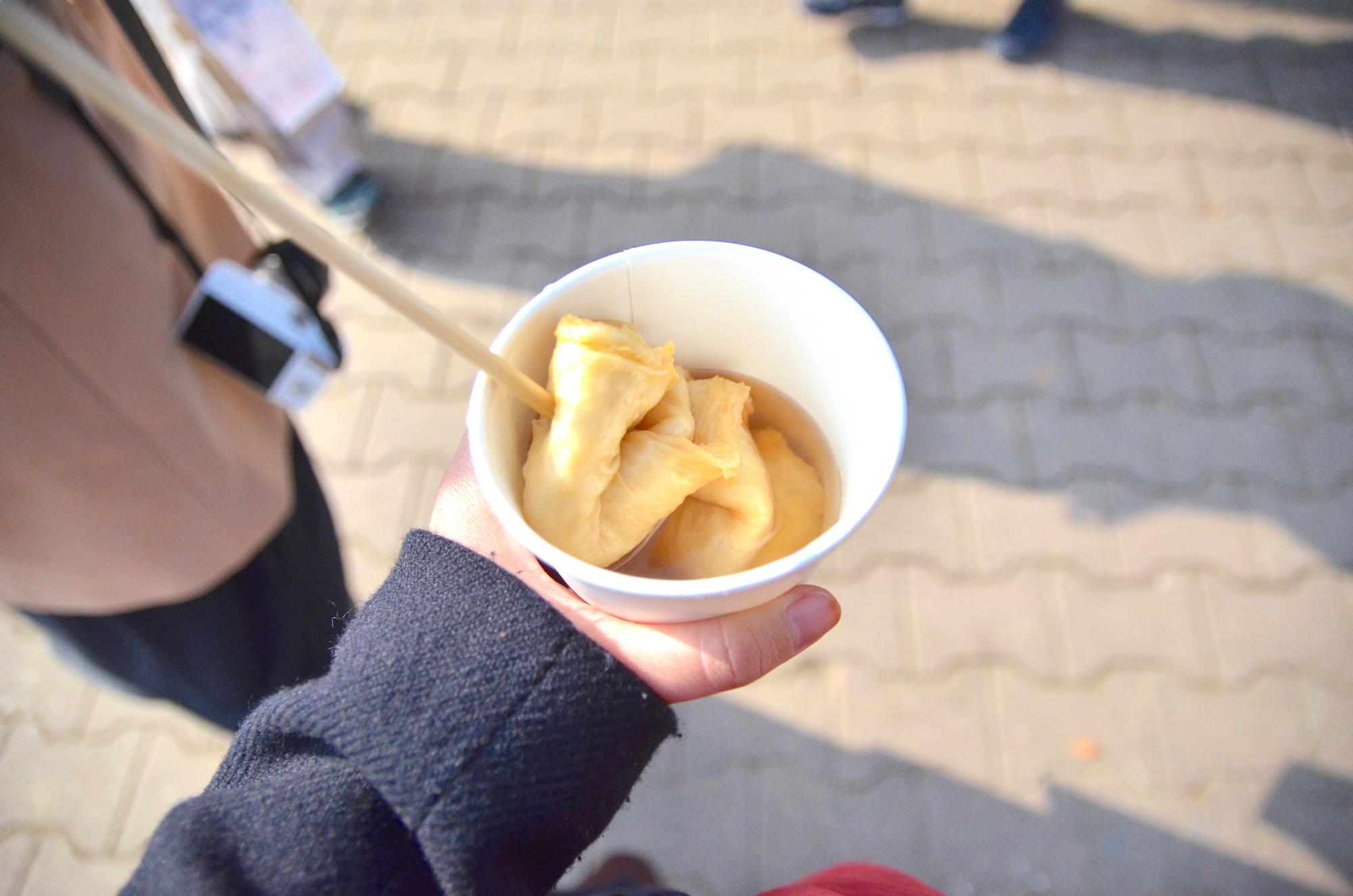 Various street food in one table #Yummy
Delicious Halal Restaurants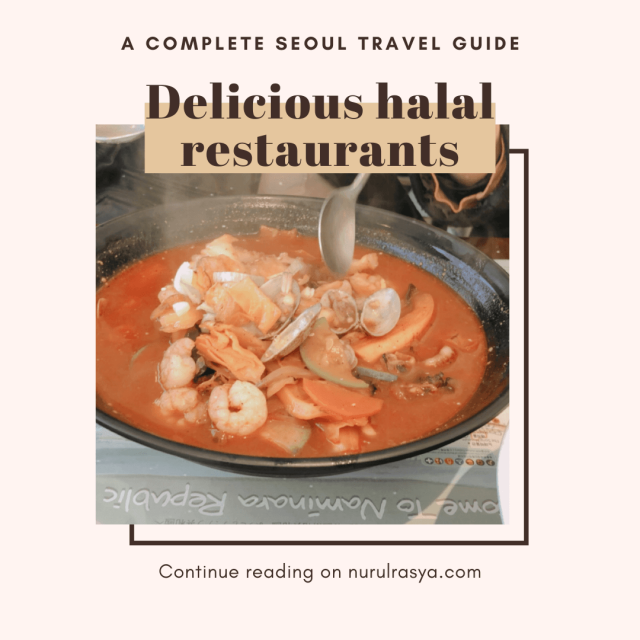 So many halal restaurants to try but no money and time lol. So I'd list my favourite restaurants that I've tried.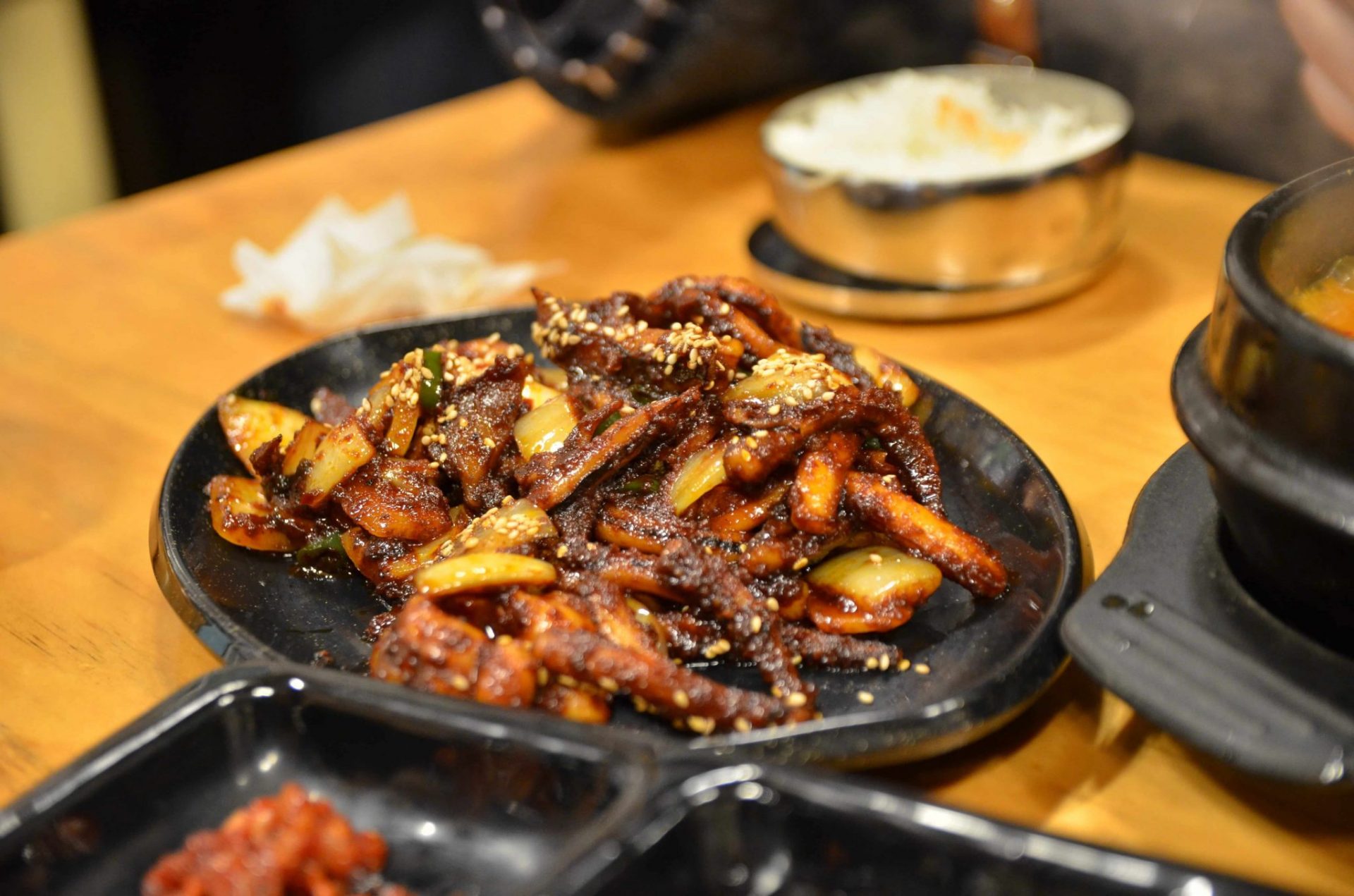 Their spicy stir-fried squid is the best!
Kampungku at Myeongdong Restaurant
Asian Food Cuisine at Nami Island
Halal Chinese Restaurants beside Kampungku at Myeongdong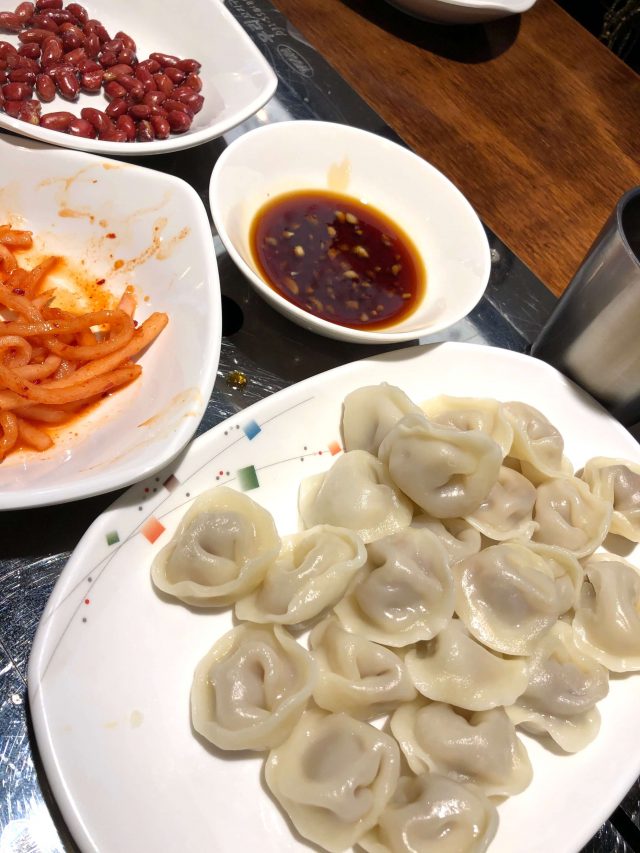 Various halal restaurants at Itaewon
Prayer Spaces In Seoul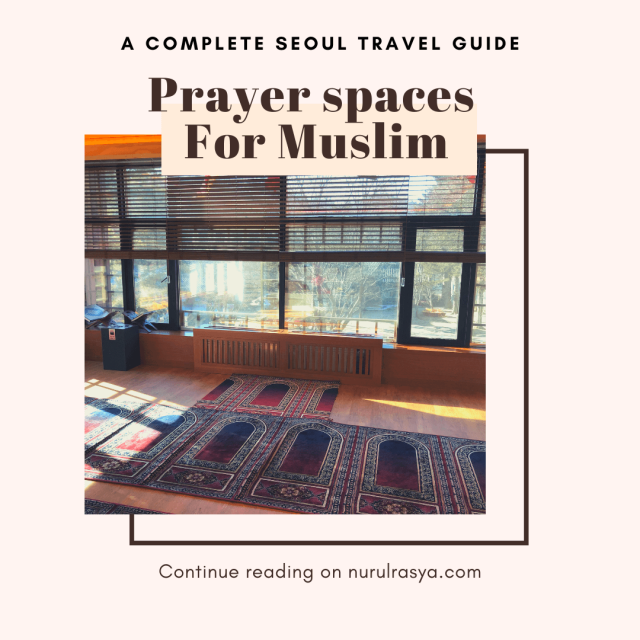 No. of prayer space in Seoul is low but it's better than having none. I love Nami Island prayer space and Itaewon Mosque the most because it's pretty.
5 Days 4 Night Itinerary
My itinerary when I went there the last month. I created it using Google Maps as it makes navigation easier.
Anyway, here's all from me. If anyone has any tips to add to this Seoul travel guidepost please feel free to so below! *wink* And I'd love to hear on your latest or upcoming trip!