All hail November! My most favourite month of the year because it's my birthday! Yo girl is 25 years old now which means I already spend half of a century living! Crazy! And what else should you do when your birthday comes?
Celebrating it with food!
Sushi-ing again at Sushi King And Dessert at Family Mart
The early dinner is sponsored by my mother *thanks Umi!* and it was actually my first time at Sushi King as I did have a prejudice on Japanese food before I came to Japan.
YOU MIGHT ALSO LIKE
Here are some of my the food that we ordered, and the spicy squid with cucumber is a hit among my family. We ate so much sushi that day. And the Nagoya Beef Ramen tastes so good!
I also found some durian on the menu which is so Malaysian things to do.
After that, I bought myself an ice cream from Family Mart and I was surprised to see Halal Pudding. Wish I had these when I was in Japan.
And the juice selection is huge! There are Korean Banana Uyu famous drink and juice/milk/coffee from Thailand and of course Japan.
New Wireless Keyboard: Logitech K380
Per the title, it's my birthday and I gave myself a present – Beautiful wireless keyboard in a classic dark blue colour. The keyboard is bought at Lazada during the 11/11 sale.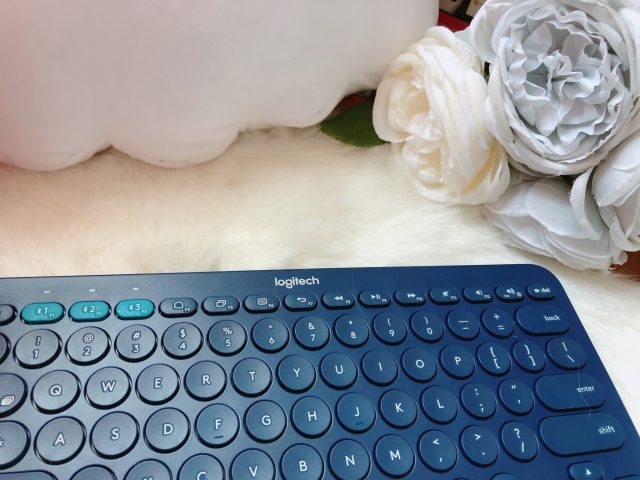 The keyboard feels heavier than expected but it can be connected to 3 multi devices which is good for multitasking your task between your phone, laptop and tablet.
A perfect companion for my iPad for digital note-taking.
YOU MIGHT ALSO LIKE
November Blog Posts
My posting frequency drops on November and so does my stats. It's sad but working, living and blogging are diffcult to balance to.
Bubble Time With The Kids
If you're my real life friends, you'll realised how my IG stories will be updated with photos of my litltle cousins' children on weekend and last week, we had a fun time at Putrajaya and a little porch in front of my house playing bubbles.
Photography time!
Hard to take photos when your 'model' moves a lot. Respect to photographers!
Taking the photos bring out my non-existent newbie photographer skills. Should practise more but I'm lazy and loves to lay in bed doing nothing. Btw, all the photos are taken with iPhone 8 Plus and edited with Lightroom so I think the result is pretty good.
Anyway, my November was pretty fun so how about you guys! Bought anything good during the Black Friday and Cyber Monday Sale?