Hi everyone! I'm back again with my life update *yeah, nobody cares but I'm still going to write about it anyway* and my newly decorated reading nook!
Life Update
It has been 2 weeks since I've last updated on why autumn is my favourite season and I miss reading everyone's blogs and interacting with other bloggers in the comment section. But work has been tough and commuting to work every day is taking a toll on me because of the traffic jam.
New Job
You Might Also Like
As for the new job, I'm handling Japan customers based in Japan so I'm glad that my Japanese skill is not wasted as I'm practically using it every day. Plus, the pay which is the most important thing is not bad but since it is a customer service job, my patience level is getting lower. Mad respect to those who work in customer service. I just worked for a few months and I don't think I could last long.
I can finally drive!
One of the good things that come with my new job is I can finally drive! *big applause for myself*
Driving has always been scary for me as I'm so used with the convenient subway and bus line in Japan but with this new job I'm forced to drive as the MRT train line is still being constructed and wouldn't be completed until the next 1-2 years. I've been driving alone for 1 week now and to be honest, driving is still scary as hell but I'm getting better Alhamdulillah.
Psst, if you've any driving tips for newbies please share on the comment below *wink*
Food Hunt
Finally, I could taste the hotly talked about 4 Fingers restaurant. I went to their branch in IOI and their chicken tastes really good! *Food review post in planned* Also, managed to satisfy my sushi craving thanks to Nippon Sushi branch in Bangi.
You Might Also Like
New Reading Nook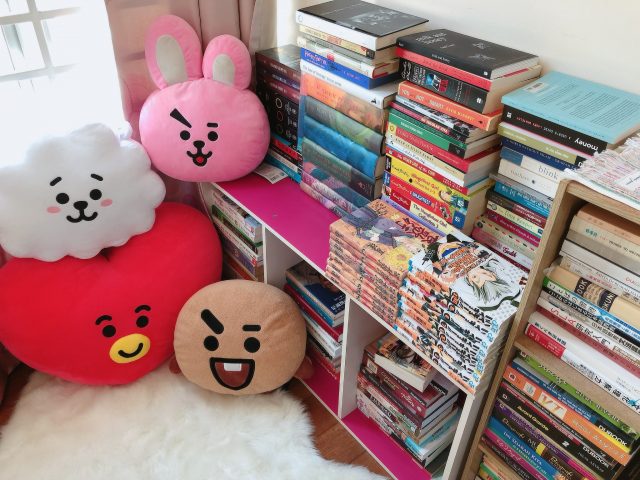 Moving on, all my books shipped from Japan arrived last month so, with the help of my annoying sister, my reading corner/spot is now completed! The white rug is bought cheaply from Aliexpress – my always to go online shopping site for cheap and cute stationery stuff.
You Might Also Like
As for the toys, they are BTS BT21 characters that I bought when I visited
Line Store in Harajuku
. Only 2 of them are mine tho.
Btw, my new reading corner is perfect as #bookstagram photos background.
You Might Also Like
So, I'm done. Please wait till I get my shit together for next posts *I've drafts all lined up need to be written* and I hope all of you have a great day ahead!